the chicken Party finally make
Julie McCarron-Benson BA JP grew up in the small NSW Central West town of Canowindra. She attended Canowindra District Rural School and Cowra High School. She moved to Canberra as a school leaver to work in the Commonwealth Public Service, Department of the Army. Later she went nursing, got married and had three kids. As a sole parent and a mature-aged student she graduated from ANU with a BA in 1989, and entered into an exciting, diverse, challenging round of activities and positions.(Amongst other things, she was an unsuccessful Australian Democrats candidate in the 1989 ACT elections, the 1990 Federal Elections and the 1992 ACT elections. She became known for her fondness for large hats.)
In 1995 she opened a freelance event management business For Occasions and as coordinator, organised some very interesting and rather varied events. After many adventures, significant challenges and a little bit of desperation, in 1999 Julie established Michele's Pantry, a range of gourmet foods, marinated olives and other delicacies all developed for the Australian palate. She expanded her Canberra Honey Range to include Mum's famous Ginger Honey and Chocolate Honey, and initiated her delightful Political Spice Range, a set of curries and spice mixes with a political theme. Her brand names also include Mrs Hall's butters, marmalades and jellies, The Cordial Factory, natural fruit cordials, and the exciting, trialed but not released Pollie Lollie.
In 2003 Julie decided to take her manufacturing business to new heights. She opened a retail outlet; her intention was to manufacture in the back and sell to the front, and, offer home made cakes and coffee. She opened Cafétopia at Hackett shops in the ACT. She struggled. Various, unable to be foreseen, circumstances did not allow the business to develop. By the end of 2004 (barely 2 years), it was obvious that there was no choice but to close the shop. The shop closed in February 2005, and with it went the previous ten years. Things were not looking too good.
Julie's, by now grown up, children rallied around and sent her off to an art class. julie had been a good girl for 40 years and not done "Art'. They maintain a very close watch on her activities. As also did her many friends who consider it their duty to ensure that her alcohol tolerance level remains comparatively high.
By the end of 2005 Julie had produced the 2006 Our Canberra limited edition calendar and was starting to enter art shows and competitions. In 2008 she held her first solo exhibition. She seems to have been labeled a naif.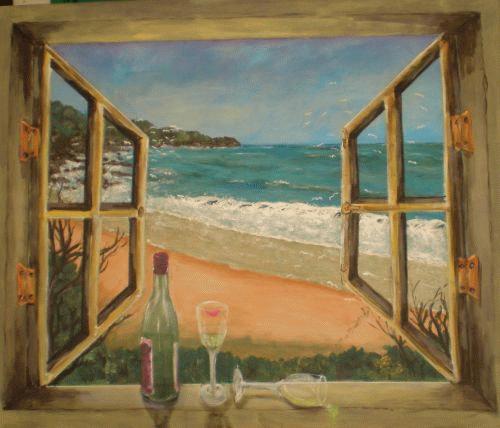 the beach
Competitions:
2006 M16 Drawing Prize – hung – ink drawing "Bus stop"
2006 Brindabella Art prize – hung – ink drawing "Hanging out with my Friends"
2007 M16 Drawing Prize – hung – ink drawings "Uplifting Breezes" and "Emerging Artist"
2008 M16 drawing Prize – ink drawing – "River of Tears"
She recently held her first solo exhibition and in typical Julie style decided to have 2 simultaneously:
"Somewhere Else' Tuggeranong Arts Centre 22 may – 8 June 2008
"Portraits" – ZBrasserie Tuggeranong 22 May – 8 June 2008
joint exhibition with Marje Seymour Southside Gallery, Narrabundah 28th august 2008 – 15 September 2008