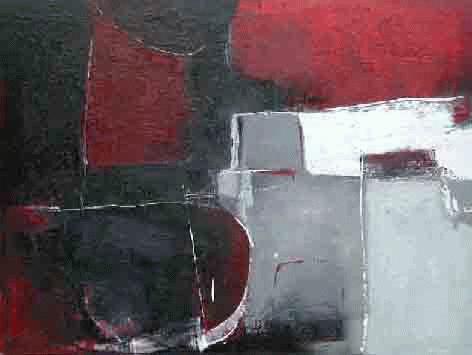 `Mars`
My work is about an unrelenting longing to connect to the sacred. It is about my search for meaning. Through the act of painting I create and enter a space. This space enables a metamorphosis to take place within me and on the canvas simultaneously. The painting acts as a 'womb like' container for energy from the unconscious to undergo a transformation. The energy is held as if it is being incubated, until an organic form begins to emerge from a place outside of my conscious mind. The form has its own authority and conveys a sense of wholeness or unity. It is a source of renewal.
Andrew has been painting for nine years. Whilst having had some individual tuition and attended short courses concerned with technique, mediums and colour, he has primarily relied on his own inspiration and trusted his instinct to guide him. The strength and popularity of his richly textured canvases attest to his innate talent as an abstract painter.
GROUP EXHIBITIONS:
2000 St Paul's Cathedral, Melbourne
2001 Telstra Building, Melbourne
2001 Richmond Galleries, Melbourne
2002 Richmond Galleries, Melbourne
2004 Pivotal Galleries, Melbourne
EDUCATION:
Bachelor of Arts at La Trobe 1989.