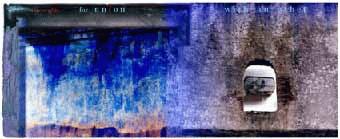 `This Search for Union`
Born 1942, grew up in the Australian outback.
1959-69 worked as a graphic designer in London and Toronto, in publishing and as an art director with J. Walter Thompson in Sydney, and as background artist for two full length animated movies, before she began to paint full time in 1970.
She has lived in the Indian himalayas for 5 years, also in Mexico and North America for several years, and travelled extensively.
Currently living in the Byron Bay area, New South Wales, Australia.
Exhibitions include:
1970 paintings, J. Walker Thompson, Sydney
1972 Bonython Gallery, Sydney
1974 Bonython Galllery, Sydney
1975 Holdsworth Gallery Sydney
1978 Holdsworth Gallery Sydney
1981 Robin Gibson Gallery, Sydney
1982-1985 painting of the 64 hexagrams of the I Ching, with text, published by Craftsman House, Sydeny, as "Images of the I Ching"
1986-1987 workshops with Dr Stanislav Grof (transpersonal psychology), and qualified as clinical hypnotherapist, in California
1988 commision for Life Education Centre, Gold Coast (15' x 5' painting)
1989 Enneagram types, illustrations for book published in Germany
1990 "Open Heart in Hell" series, private collector, Colorado
1991-1993 "Teaching Stories" series, exhibitions in San Chistobal de las Casas, Mexico and regional Australia
1994-1997 illustrations for two books by Bryce Courtenay, "A Recipe for Dreaming", and "the Family Frying Pan", published by Penguin, Australia
1997-2003 paintings and drawings plus text, for an on going project, a book titled "Burning Questions", an exploration of the enquiry "Who am I?"
2001-2003 paintings (acrylic on canvas and gouache on paper), Byron Bay, while
concentrating on digital art