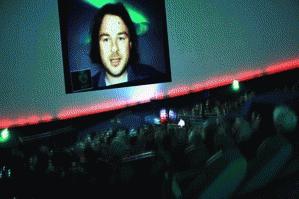 paintedSKY at BEAP
Currently - Creative Development Fellowship at West Australian Department of Culture and the Arts. 2012 - 2013
Originally from Burnley Lancashire in the UK David moved to Australia in 1995. He has worked as an independent curator of several major exhibitions, which have toured Australia supported by ARTSWA, The Australia Council for the Arts and Visions Australia. He has been an active advocate of 3D stereoscopic video in Western Australia and is currently an advisor and teacher of 3D video in the FutureSphere at Christ Church Grammar School in Claremont WA. and in the Electronic Arts area at Curtin University in Perth.
Residency at Scitech
A frequent exhibitor of new media art throughout Australia. David Carson has recently been awarded a Connections Residency Program grant from the Inter-Arts Office of the Australia Council for the Arts (2009). This will enable him to work at Horizon, the Planetarium at Scitech to develop the Auspex project for full-dome projection.
davecarson.net