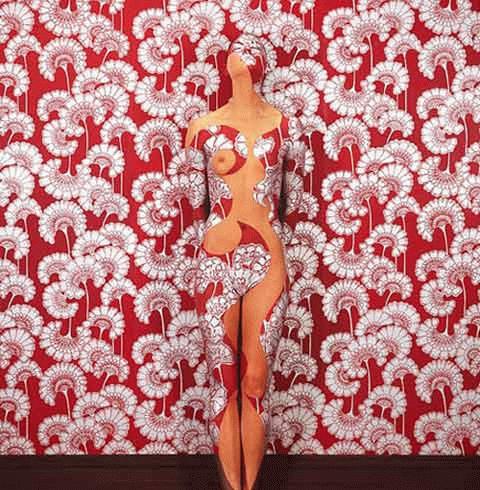 Emma Hack
Through dedication and a passion for her craft Emma's 20-year career has evolved from beginnings as a children's face painter and qualified hairdresser and make-up artist, to a body illustrator and visual artist of world acclaim.
In March 2001, Emma won the coveted 1st prize at the CIDESCO World Congress Professional World Body Painting Championship in Hong Kong. With Emma's co-ordination assistance, the event was held in Adelaide the following year.
In 2004, The Adelaide Cabaret Festival utilised Emma's exhibition skills to feature a collection of celebrities painted as their cabaret persona as an exhibition during the festival. Emma's portraits of celebrity chef personalities Ian Parmenter, Geoff Jansz and Jason Roberts feature at the National Portrait Gallery, Canberra. In 2005 Emma collaborated with Deborah Paauwe in her Dark Fables collection, featuring Emma's illustration on the faces of Paauwe's subjects.
Emma's Wallpaper 2005, 2007 and 2008 collections feature Florence Broadhurst wallpaper designs combined with her body illustration. Continuing the series in 2008, Emma introduced live native Australian animals into her work, presenting a unique challenge to her imagery and creative process. The works were exhibited during the Adelaide Fringe Festival, along with nude landscapes and a continued collection of Florence Broadhurst wallpapers. It was during this collection she began photographing the installations herself, evolving her talents further. Emma's photographic images were exhibited at Art Sydney 08, and she was recipient of the people's choice Renault New Generation Art Award at this event.
Keen to continue her professional development and explore new mediums, Emma travelled to China to participate in a large installation for Mont Blanc. While there she travelled to Jingdezhen, where she visited and was trained by artisans in the art of porcelain painting and met with her peers to discuss techniques. The result is a stunning collection of porcelain busts; a collaboration with ceramicists Gus Clutterbuck and Andrew Stock, which demonstrates her diversity across varied artistic mediums.
In 2009 Emma created the Panoramic Bodies collection, shot on location in the South Australian Outback. A team of acrobats and models was complied to create unique body forms in the striking natural landforms. The collection was exhibited as part of the Adelaide Fringe Festival 2009 at the Adelaide Airport Terminal (T1) and featured three metre wide panoramic images. Later in 2009 she was invited to attend the world's largest textile design fair, the prestigious Premiere Vision, an international expo held in Paris, where she created a live installation on site by blending the human body seamlessly into a textile design with body painting techniques. Emma's collection of Wallpaper images were also shown throughout the expo on large screens.
In her most recent collection, Native Mandala, 2009, Emma Hack has created striking circular background designs into which her models are camouflaged, each holding a native Australian bird, reptile or mammal. Emma has created an environment, which bears significance to the species, providing a safe haven into which it is nestled, and demonstrating the unique beauty of flora and fauna that is quintessentially Australian.
Emma's latest edition of the 'Mandala' collection is 'Exotic Mandala', Emma muse are blended into Art Nouveau inspired, hand painted canvases with butterflies placed onto the human form, creating a fresh, multi layered effect. Emma upcoming collection, Wallpaper Mandala features a clever blend of Broadhurst papers creating a collage effect, into which her muse is blended to create the illusion Emma is renown for.
Emma Hack
SOLO EXHIBITIONS
2010 Exotic and Native Mandala, Festival Theatre Foyer, Adelaide, SA
2010 Exotic and Native Mandala, Frances Keevil Gallery, NSW
2010 Native Mandala, Manyung Gallery, Mt Eliza, VIC
2009 New Works & Past Delights, Gallery 139, Adelaide, SA
2009 Art Sydney 09, Royal Hall of Industries, Sydney, NSW
2009 New Works & Past Delights, Frances Keevil Gallery, Sydney, NSW
2009 New Works & Past Delights, Obscura Gallery, Melbourne, VIC
2009 Past Delights – SALA Festival, Burnside Village Shopping Centre, Adelaide, SA
2009 Art Melbourne 09, Royal Exhibition Building, Melbourne, VIC
2009 Panoramic Bodies & Retrospective Works, Adelaide Airport Terminal T1, Adelaide, SA
2008 Recent Works, Art Images Gallery, Adelaide, SA
2008 Art Sydney 08, Royal Hall of Industries, Sydney, NSW
2008 Retrospective Works - SALA Festival, Dare Hair, Adelaide, SA
2008 Retrospective Works, Melrose Gallery, Melrose, SA
2008 body.art.08 @ The Fringe Festival, Tin Cat Gallery and Café, Adelaide, SA
2007 Cowscapes and Painted Ponies, Paxton Winery, McLaren Vale, SA
2007 Cowscapes and Painted Ponies, Tin Cat Gallery and Café, Adelaide, SA
2007 Body Painting Broadhurst, The Arthouse Hotel, Sydney, NSW
2007 Oriental Delights, Tincat Gallery and Café, Adelaide, SA
2006 Yoga Collection, The Arthouse Hotel, Sydney, NSW
2006 Yoga Collection, Tincan Gallery and Café, Adelaide, SA
2005 body.art.05, Tincat Galley and Café, Adelaide, SA
2004 Adelaide Cabaret Festival, The Arthouse Hotel, Sydney, NSW
2004 Adelaide Cabaret Festival, Adelaide Festival Centre, Adelaide, SA
2003 Retrospective works, The Arthouse Hotel, Sydney, NSW
2003 Retrospective works, FAD Gallery, Adelaide, SA
2002 Petal Collection, Warehouse, Sydney, NSW
2002 Petal Collection, To Relish Restaurant, Adelaide, SA
1999 body.art.00, The Royal Hotel, Adelaide, SA
SELECTED GROUP EXHIBIITONS
2010 Summer Group Show, Manyung Gallery, Mt Eliza, VIC
2010 Group Show, Frances Keevil Gallery, Sydney, NSW
2009 Xmas Group Show, Glenferrie Rd Gallery, Melbourne, VIC
2009 Fashion as Art, Manyung Gallery, Mt Eliza, VIC
2009 Works on Paper, Francis Keevil Gallery, Sydney, NSW
2008 Retrospective Works, Brunswick St Gallery, Melbourne, VIC
2008 Retrospective Works, Art Moments Gallery, Sydney, NSW
2008 Retrospective Works, Marie Hart Galleries, Adelaide, SA
2007 Catwalk Exhibition, Tincat Gallery, Adelaide, SA
2004 Erotica Exotica, Greenhill Galleries, Adelaide, SA
2002 Petal Collection, Greenhill Galleries, Adelaide, SA