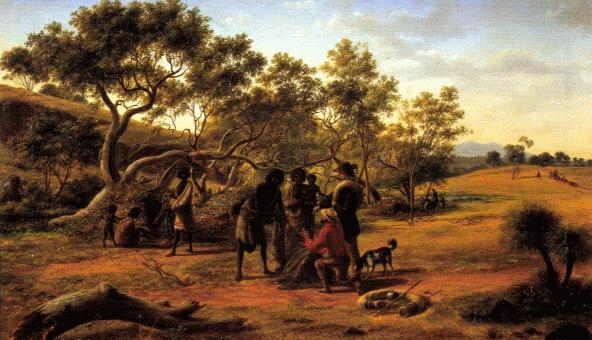 Barter
Eugene Von Guerard was the son of an artist in the employ of Francis I of Austria. He studied at the Dusseldorf Academy in Rome and there became attached to an expatriate group of German artists and writers, the Nazarenes, who were a romantic, religious, revivalist sect.
The Nazarenes proposed an art that should be faithful, innocent, sensitive and thoughtful, and that an artist should live a life that is pure and noble. Von Guerard's hard-working and earnest life was well in keeping with the tenets of this reactionary group.
Von Guerard began his Australian life in the goldfields but soon realised that his riches were to be found in his own talents and it wasn't long before he was undertaking lucrative commissions recording the dwellings and properties of rich landowners. He also toured Australia in pursuit of the picturesque. He arrived at Geelong on 24 December 1852, and made many sketches of the mining districts around Ballarat until 1854. He moved to Melbourne, and in 1870 was appointed the first Master of the School of Painting, National Gallery of Victoria where he was to influence the training of artists for the next 11 years.
He retired from this position at the end of 1881, and in 1882 departed for Europe. In 1891, he moved to London, and died in London on 17 April 1901. He is buried in Brompton Cemetery, Chelsea, England.