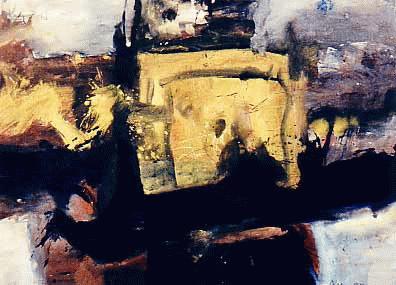 Autumn Games
Born in Lithuania she migrated to Australia after the Second World War having been trained in the German expressionist tradition. Over the next 30 years she gave the Sydney watercolour scene an unprecedented toughness.
Eva Kubbos (born 1928), studied at the Hochschule für Angewandte Kunst, Berlin and after arriving in Melbourne in 1952 at RMIT. She was impressed by Jackson Pollock's explosive force and by Mark Rothko's colour ponds. Her early career was in commercial graphics but in 1960 moved to Sydney and met Henry Salkauskas. It was Salkauskas' example which led her to abstract expressionist watercolours. The two became close companions until Henry died in 1979.
Both artists, but especially Salkauskas, retained remnants of the landscape in their work and both use solid black brushstrokes which increase its dramatic nature. They have both been described as tonalists but there are differences. Salkauskas seeks elemental, emphatic masses while Kubbos is the more speculative with colour.
The period from 1961 to 1971 was very rewarding for both artists.
Eva Kubbos has a solo exhibition at Barry Stern Gallery in 1962 as well as others in Adelaide (1968) and Canberra (1969). She won the Mosman Art Prize in 1964 and 1966. In 1963 she won the first of her three Wynne Watercolour Prizes and her four Trustees Watercolour Prizes at the Art Gallery of NSW. She came to dominate the Pring Memorial Prize for Watercolour with her first win in 1970 and an additional nine up to 1989.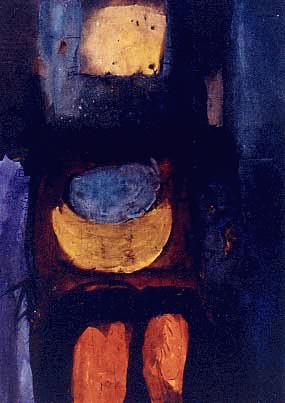 Tower
1960
First Australian Graphic Art Exhibition, Contemporary Art Society, Sydney
1962
Sydney Printmakers, Sydney
Solo exhibition, Barry Stern Gallery, Sydney
Participated in Third International Print Biennale, Tokyo
Participated in South-East Asia Travelling Exhibition
Group exhibition, South London Gallery, London
1964
Solo exhibition, Von Bertouch Galleries, Newcastle
1965
Participated in Contemporary Drawing Exhibition, Newcastle
1966
Australian Printmaking Today, Contemporary Art Society, Sydney
1967
Mertz Collection of Australian Art, Corcoran Gallery, Washington, DC
1968
Solo exhibition, White Studio Gallery, Adelaide
1969
Sydney Printmakers, Sydney
Macquarie Galleries, Canberra
International Young Painters' Exhibition, Tokyo
1978
Exhibition , Greenhill Galleries, Adelaide.
1980
Abstract Expressionism in Sydney 1956 - 64, Ivan Dougherty Gallery, Sydney
1981
Solo exhibition, Tia Gallery, Toowoomba
Solo exhibition, Masterpieces Fine Art Gallery, Hobart
1984
Solo exhibition, Niagara Gallery, Melbourne
1987
Solo exhibition, Delmar Gallery, Sydney
1988
Ex Libris Exhibition, Lithuanian Arts Festival, Adelaide
1991
New Directions 1952 - 62, Lewers Bequest and Penrith Regional Art Gallery, NSW
1995
Women's Exhibition, Lewers Bequest and Penrith Regional Art Gallery, NSW