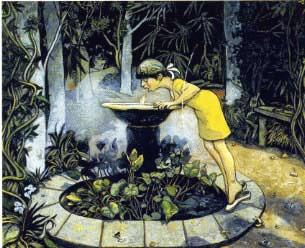 Garden of Innuendo 1996
Individual Exhibitions
2009 Australian Galleries Sydney [paintings] End Game One Sydney NSW Australia
2008 Australian Galleries VIC [paintings] - Allusions Melbourne VIC Australia
2008 United Galleries - Perth Waterlilies Perth WA Australia
2007 Australian Galleries Sydney [WOP] - Aspects Sydney NSW Australia
2007 United Galleries - Perth - First Light Perth WA Australia
2007 Robert Steele Gallery - Recent works New York NY USA
2007 BMG Fine Art - Recent works Adelaide SA Australia
2006 BMG Fine Art - Bowls Adelaide SA Australia
2006 Australian Galleries Sydney [paintings] - Recent Works Sydney NSW Australia
2006 East West Galleries Recent Works London United Kingdom
2005 Robert Steele Gallery Suits New York NY USA
2005 Annandale Galleries Memory Pots Sydney Australia
2005 Australian Galleries VIC [paintings] Facets - Recent Small Paintings Melbourne VIC Australia
2004 BMG Fine Art A Freudian Slip Adelaide SA Australia
2004 East West Galleries Turntables London United Kingdom
2003 Australian Galleries Sydney [WOP] Retrospective - The Figure Side - Drawings 1955 - 2002 Sydney NSW Australia
2003 Galeria Aniela Fine Art Kangaroo Valley Australia
2003 Robert Steele Gallery New York NY USA
2003 Australian Galleries VIC [paintings] Melbourne VIC Australia
2002 BMG Fine Art Recent Paintings and Drawings Adelaide SA Australia
2002 Annandale Galleries Sydney Australia
2001 Australian Galleries VIC [paintings] Recent Paintings and Drawings Melbourne VIC Australia
2001 Chapman Gallery Canberra ACT Australia
2000 Annandale Galleries Sydney Australia
2000 BMG Fine Art Adelaide SA Australia
2000 East West Galleries Doorways (First London Exhibition) London United Kingdom
2000 East West Galleries Meetings London United Kingdom
1999 BMG Fine Art Recent Paintings and Drawings Adelaide SA Australia
1998 Annandale Galleries Sydney Australia
1998 BMG Fine Art Adelaide SA Australia
1997 Christine Abrahams Gallery Melbourne VIC Australia
1996 Annandale Galleries Recent Works Sydney Australia
1995 BMG Fine Art Adelaide SA Australia
1995 Art Gallery of NSW Sydney NSW Australia
1995 Alliance Francaise Sydney NSW Australia
1994 Christine Abrahams Gallery Melbourne VIC Australia
1993 BMG Fine Art Adelaide SA Australia
1992 BMG Fine Art Adelaide SA Australia
1992 Christine Abrahams Gallery Melbourne VIC Australia
1990 BMG Fine Art Adelaide SA Australia
1989 Macquarie Galleries New Work Sydney NSW Australia
1989 Christine Abrahams Gallery Melbourne VIC Australia
1988 Christine Abrahams Gallery Melbourne VIC Australia
1987 Orange Regional Gallery Orange Australia
1987 Macquarie Galleries Sydney NSW Australia
1986 Macquarie Galleries Sydney NSW Australia
1986 Galleria del Cavallino Venice Italy
1986 Galerie Dusseldorf Perth WA Australia
1985 Macquarie Galleries Sydney NSW Australia
1985 Christine Abrahams Gallery Melbourne VIC Australia
1985 Solander Galleries Canberra ACT Australia
1984 Macquarie Galleries Sydney NSW Australia
1983 Macquarie Galleries Sydney NSW Australia
1983 Christine Abrahams Gallery Melbourne VIC Australia
1981 Axiom Gallery Melbourne VIC Australia
1980 Gallery A Sydney NSW Australia
1980 V.A. Gallery College at Purchase New York USA
1980 Ludlow-Hyland Gallery New York USA
1978 Powell Street Gallery Melbourne VIC Australia
1978 Gallery A Sydney NSW Australia
1977 Powell Street Gallery Melbourne VIC Australia
1977 Gallery A Sydney NSW Australia
1976 Powell Street Gallery Melbourne VIC Australia
1976 Gallery A Sydney NSW Australia
1975 Powell Street Gallery Melbourne VIC Australia
1974 Powell Street Gallery Melbourne VIC Australia
1973 Powell Street Gallery Melbourne VIC Australia
1972 Bonython Gallery Adelaide SA Australia
1972 Powell Street Gallery Melbourne VIC Australia
1971 Gallery One Eleven Brisbane QLD Australia
1970 Bonython Gallery Adelaide SA Australia
1970 Strines Gallery Melbourne VIC Australia
1967 Leveson Street Gallery Melbourne VIC Australia
1967 Bonython Gallery Adelaide SA Australia
1966 Leveson Street Gallery Melbourne VIC Australia
1965 Argus Gallery Melbourne VIC Australia
Selected Group Exhibitions
2004 SH Ervin Gallery Salon des Refuses Sydney Australia
2003 Annandale Galleries Works on Paper Sydney Australia
2003 Bendigo Art Gallery Arthur Guy Memorial Painting Prize Bendigo VIC Australia
2003 East West Galleries Prizewinners London United Kingdom
1978 Art Gallery of WA Contemporary Australian Drawing Perth WA Australia
1978 Art Gallery of NSW Contemporary Australian Drawing Sydney NSW Australia
1978 Queensland Art Gallery Contemporary Australian Drawing Brisbane QLD Australia
1977 Western Australian Institute of Technology Australian colourists Perth WA Australia
1977 Barry Stern Gallery Port Jackson Press Prints Sydney NSW Australia
1976 Western Australian Institute of Technology Twenty Australians Perth WA Australia
1976 Coventry Collection Armidale NSW Australia
1976 Monash University - Melbourne Besen Collection Melbourne VIC Australia
1975 National Gallery of Victoria Artists, Artists Melbourne VIC Australia
1975 Benalla Art Gallery Australian Image (Inaugural exhibition) Sydney NSW Australia
1975 Monash University - Sydney Selected Paintings Monash Collection Sydney NSW Australia
1975 Philip Morris 2nd Annual Grants Exhibition Sydney NSW Australia
1975 Art Gallery of NSW Ten Australians Sydney NSW Australia
1974 Alliance Francaise Sydney NSW Australia
1974 Touring Exhibition Ten Australians - Touring Paris, Stuttgart, Venice, Milan, Florence, Rome
1973 1st Biennale of Sydney Sydney NSW Australia
1972 Georges Prize Invitation Sydney NSW Australia
Collections
Galleries
Albury Art Gallery; Art Gallery of New South Wales, Sydney; Art Gallery of South Australia, Adelaide; Art Gallery of Western Australia, Perth; Australian National Gallery, Canberra; Ballarat Art Gallery; Benalla Art Gallery; Bendigo Art Gallery; Bibliotheque Nationale de France; Broken Hill Art Gallery; Burine Art Gallery; Gold Coast City Art Gallery; Hamilton Art Gallery; Lalit Kala Adademi, New Dehli, India; McClelland Art Gallery, Langwarrin; National Gallery of Victoria, Melbourne; New England Regional Art Museum, Armidale; Newcastle Art Gallery; Parliament House Collection, Canberra; Peninsula Art Gallery, Mornington; Queen Victoria Art Gallery and Museum, Launceston; Queensland Art Gallery, Brisbane; Rockhampton Art Gallery; Shepparton Art Gallery; Tasmanian Art Gallery and museum, Hobart; Townsville Art Gallery; Wagga Wagga Regional Art Gallery; Wollongong Art Gallery.
Universities and colleges
Brisbane Grammar School; Campbelltown College; Canberra College of Advanced Education; Curtin University; Darwin Community College; Griffith University; Macquarie University; McGregor College; Melbourne Grammar School; Monash University; Murdoch University; NSW College of Fine Arts; Riverina College; St Gregory's; Sydney College of Fine Arts; University of Melbourne; University of New South Wales; University of Queensland; University of Western Australia.
Corporate
Arab-Australia Bank; Art Bank, Sydney; Aunger Group of Companies, Adelaide; Chartwell Trust Collection, New Zealand; Christensen Fund; Fairfax & Sons LTD; Kemps Mercantile Collection, Adelaide; Myer Foundation; National Bank of Australia, Sydney; News Corp; NWS Channel 9, Adelaide; Pan-Continental Mining Co.; Phillip Morris Collection; Qantas; Rural and Industrial Bank, Perth; Santos Ltd; Sons of Gwalia, WA; State Bank of New South Wales.
Private collections in Australia, England, France, Holland, USA, Switzerland, Italy , New Zealand, Ireland, Germany, Belgium.
Awards
2003 Awarded Member in the Order of Australia (AM)
1988 'Archibald Prize for Portraiture', Art Gallery of New South Wales, Sydney
1988 'People's Prize', Archibald Prize, Art Gallery of New South Wales, Sydney