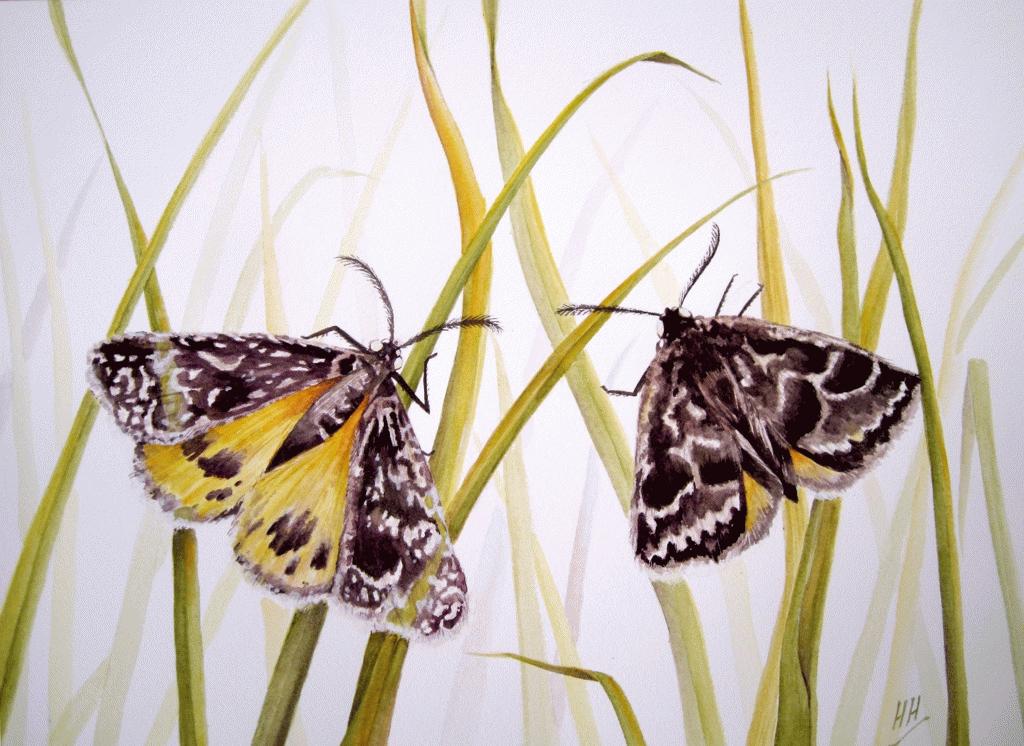 Endangered Golden Sun Moths of
I am a South Australian born artist and I was studying towards a Bachelor of Art in Fine Art prior to my sudden and unexpected move to Canberra in 2013. My university studies are now on hold but I'm continuing to paint in watercolours and acrylics and have recently become interested in collage and mixed media. I've also become addicted to printmaking since doing it at Uni, where I received a High Distinction in Printmaking, and love lino cuts and monprinting. I've also become mad about doing gelli plate printing on both paper and fabric.
In my youth (in the far distant past) I flirted with cartooning, doing cartoons for my own pleasure with a number published in "People" magazine. For many years work and life got in the way of the pursuit of art activities and it is only in recent years that I began to return to art. I studied watercolour painting with one of Australia's premier maritime artists, John Ford, who gave me very good instruction (not always followed) in traditional watercolour techniques. In late October 2013 I commenced studying mixed media techniques with well known Canberra artist, Val Fitzpatrick.
Other artistic activities have included ceramics and stoneware pottery. I studied pottery for a time with Adelaide based painter and potter Anthony Millliwik. I was also taught silversmithing with Churchill Fellow John Hale and have taught myself enamelling. In addition to painting, I make and sell tie dye clothing and still make the odd piece of silver jewellery. 3 of my paintings have been used in the creation of some musical videos by Rebecca Tripp available on YouTube /heathers-blog.htmlTh
2 x Merit Awards – Port Community Arts Exhibitions (for watercolour category)
2nd Prize in Watercolour – Queanbeyan Art Society Exhibition
4th Prize 2015 ACT Catchment Awards – Native Grasslands for solar print and pencil.
Current Memberships:
Artists Society of Canberra
Queanbeyan Art Society
Port Community Arts Centre
Strathnairn Wednesday Painting Group