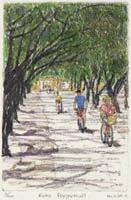 Rottnest Peppermints
Studied graphic design at Royal Melbourne Institute of technology,
worked as designer and Art director in Canada, East Africa and Asia.
After settling in Perth,Western Australia, graduated in Fine art at Claremont School of Art majoring in Printmaking in 1993.
The architecture of old buildings has been a feature of past work
with exhibitions in historic York, Rottnest and Fremantle.
Whenevever possible I try to capture images of historic buildings and farm houses as many of these are being allowed to dissapear from neglect.
Influences from the past include French Impressionists and australian painters from the Heidelburg school.
Cottesloe Beach
Exhibitions:
1994: One man exhibition of historic York
1995: One man exhibition Fremantle Maritime Museum
1998: Joint Exhibition Moores Building, Fremantle
2000: Joint Exhibition Moores Building, Fremantle