Cobalt.
AKA: Ian Wells
Born: 1967 Bendigo, Victoria
Abstract
Painter
Established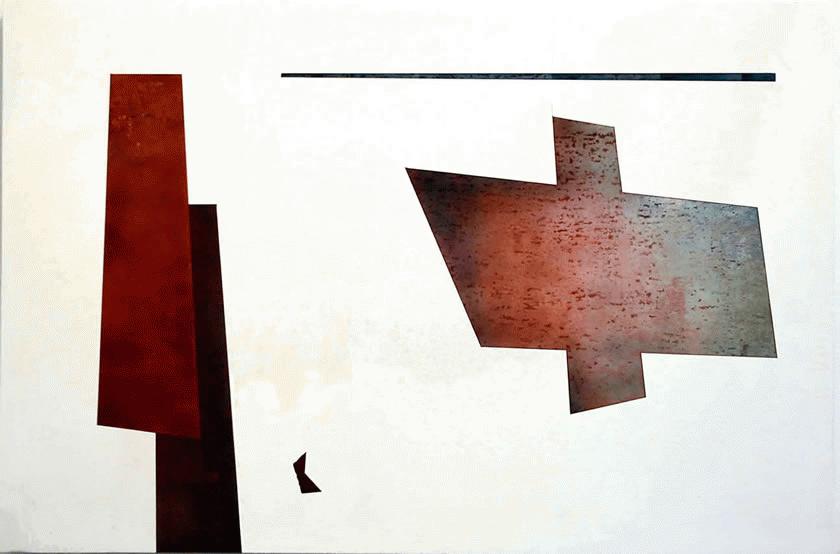 Past Percieved
Abstraction in my art is a cognitive restating of a process that the mind carries out as part of visual processing.
Painting in the abstract allows me to capture non tangibles that I feel I can not be expressed verbally or possibly by any other media. The sliver of emotion tied to a past memory of something trivial. The beauty of something that is barely noticeable, the strange appeal of the lopsided or awkward
When I paint, I try to capture the beauty I find in the mundane the odd or the simple . For example the slight shift of tone between two surfaces at the corner. a faded colour, a repeated pattern.
They are memories of other events, I guess the ones that never make it into a biographies, the ones that we forget or that blur into one composite memory.
Repetition and pattern in my work become analogous for many i.e. times, spaces, objects, memories. I think we seek in all aspects of observing, to see pattern, then deviation and find reason, cause or opportunity from that deviation.
Surfaces are an obsession with me , I'm fascinated with damage and dirt and oxidisation and with the microscopic topography of the apparently flat surfaces that reveals detail on careful observation but casually glanced at, is faultless
The mind performs a function in our visual perception called 'filling in' where detail seen once is applied perceptively over a correlating area or where the unseen, but likely visual components that are needed to complete a picture are assumed.(conceptual/perceptual completion.
Visual perception is a form of abstraction because it synthesises meaning and order from an illogical visual truth.


Ian Wells

Home;
0411135575

Solo Show.
Alluvial Gallery. Bendigo 2007.

Group show
Fresh Gallery Sep 2006

Red Gallery-Solo Show July 2006

Dagmar Art Consultants, Group Show March 2006

Melbourne Abstraction, Red Gallery Fitzroy , Oct 2005.
Show with Kim Vernon, Michael Mark and Louise Blyton

Sarah Menalaus, Neil Williams, Ian Wells
Chapman & Bailey Dec 2004

Red Stocking Show,
Red Gallery Fitzroy, Dec 2004.

Melbourne Abstraction, Red Gallery Fitzroy , Oct 2004.
Show with Kim Vernon and Michael Mark.

Peepshow
Federation Square, Melbourne Town Hall, New Quay, Oct 2003.
Public Performance / installation.

White Cube Project, Dante's Upstairs Gallery, Sep 2003.
Group Show for the Fringe Festival.

Ume Nomiya, Fitzroy, Apr 2003.
Solo show.

Spencer Street Gallery, Spencer Street, Melbourne, Nov 2002.
Solo Show.

Spencer Street Gallery, Spencer Street, Melbourne, Dec 2001.
Group show.

La Trobe University, Bendigo campus, Aug 2001.
Solo exhibition.

William Street Studio's, Balaclava, 1996 - 1999.
Gallery space group shows.

Old Fire station – Bendigo Arts centre, 1992 (& 1989).
Group Show, Easter Icon Show.

La Trobe University, Bendigo Campus 1991.
Final Folio show. Graduated B.A Fine Art Painting & Printmaking.

Artspace, Bendigo 1991.
Solo exhibition – Installation based on Icarus myth.

Artspace, Bendigo1989 – 1991.
Gallery space group shows.