Antonio 2004
Jeff Martin is a painter based in Melbourne, Victoria, Australia. His work is figurative and has best been described by one of Melbourne art critic's, as lyrical. Martin is an inspired traveler, with much of the work originating from his many visits to Sicily. The works are dark with the characters providing the only colour, a glimpse into another world.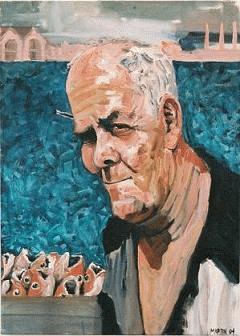 il pescivendolo 2004
Jeff Martin is represented in private collections in London, Melbourne, Rome, Sydney and a number of boutique hotels throughout Sicily. Jeff Martin has to date had only one solo show in September/October 2004 featuring 52 works, all sold. I 2005 he was instrumental in the establishment of the Appleton Street Studios in Richmond Victoria.