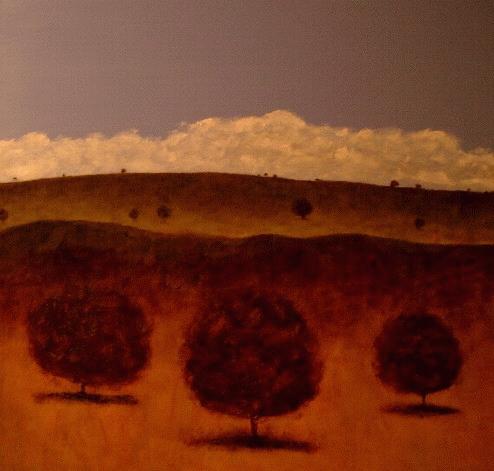 `Los Trios`
Born Hobart, Tasmania, 27 October 1956 Educated at Geelong Grammar School. Studied Fine Art & Design at Tasmanian College of Advanced Education.
Moved to Melbourne in 1975 to play drums with 'The Highrise Bombers', Paul Kelly & The Dots, Paul Madigan & The Humans and Peter Lillee & The Relaxed Mechanics.
Moved to Sydney in 1979 to join Flowers/Icehouse.
Created Artwork for cover of the Flowers "Icehouse" album. Toured the world extensively with Icehouse playing several major supports to Roxy Music, David Bowie, Simple Minds and XTC.
Worked as a copywriter at SSB and DDB Needham advertising agencies in Sydney, winning several finalist awards including the Australian Writers & Art Directors Award, International Film & TV Festival in New York, International Advertising Festival of New York and CLIO.
In 1988 created the "EAT" Ethiopia Aid Tonight concert raising funds for famine relief in Ethiopia at Sydney Entertainment Centre. In 1992 moved to Byron Bay and began working as an artist.
Inspiration comes from nature herself, whether it be the beauty in a tree trunk, the mystery of a mountain floating in a sea of mist or the ever changing sky itself. Trying to capture the mystery of nature is always a challenge. As for the abstract work, the challenge is more in the composition, form and colour choices, I could easily be guided just by the response to a particular colour and indeed this can sometimes dictate a whole piece.
My work is all done from my imagination, influenced by soaking up as much of the landscape as I can.
Sometimes I will go out and draw but these sketches don't result in finished pieces. I like the freedom of making it up, ideally other qualities will flow into the work and this is where the mystery exists for me.
I try to find balance and simplicity in my composition and colour selection is critical especially in my more abstract pieces.
A by-product of the process seems to be a quality of stillness and quiet which, like most of us 'doers', I am looking for in my own existence.
Nature, for me, is the best place to find a sense of being, particularly when that is drawn from within.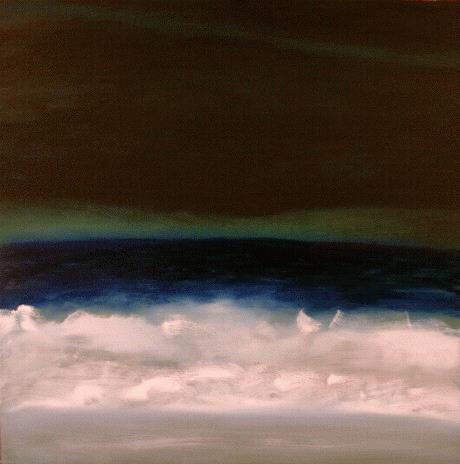 `Storm`
Selected Exhibitions: November '02 Commission for Sheraton Noosa Resort, Queensland
October '02 Exchange Square, Hong Kong
August '02 Main Street Gallery, Montville QLD, Solo Exhibition
August '02 Maree Mizon Gallery, Sydney
November '01 The Beatty Gallery, Sydney, Solo Exhibition
April '00 The Cape Gallery, Byron Bay, Solo Exhibition
August '99 Bangalow Artisan Fair Art Competition, People's Choice Award
April '99 Commission for Rydges Wentworth Hotel, Philip St. Sydney
April '99 Three Generations Exhibition, The Masters Gallery, Woodend, Victoria
Dec. '98 Byronion Cafe, Byron Bay. Solo Show
October '98 Buttery Acquisition Art Prize, Highly Commended
October '98 Thangs Gallery, Melbourne, Solo Exhibition
August '98 Kulture Shop Gallery, Sydney, Solo Exhibition
June '98 Bangalow Pool Trust Art & Craft Exhibition
Drawing Category 3rd Prize, Highly Commended
April '98 Barebones Art Space, Bangalow
'Elvis Has Left The Building'. Fourth Annual Theme Exhibition
Dec. '97 'Waywood Gallery, Byron Bay. Solo Exhibition
June '97 Byronion Cafe, Byron Bay. Solo Show
April' 97 Barebones Art Space, Bangalow, 'Egg', Third Annual Theme Exhibition
Awards & Prizes: August '01 2001 Mosman Art Prize Exhibition.