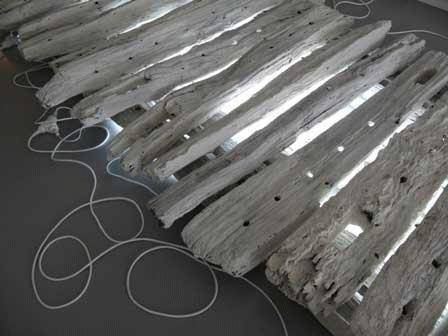 Jonathan Jones Installation
Sydney-based Aboriginal artist Jonathan Jones is a member of the Wiradjuri and Kamilaroi nations of Australia. He works across a range of mediums, from printmaking and drawing to sculpture and film. He is best known for his site-specific installations and interventions into space which use light, shadow and the repetition of shape to explore Indigenous traditions, relationships and ideas.
In his youth Jones shifted back and forth between city and country his education was fragmentary and incomplete. He dropped out of high school, then went to TAFE. After a stint at the College of Fine Art – which he describes as an "inevitable" career choice – he worked as a curator at Boomalli Aboriginal Artists Cooperative in inner city Sydney. While at Boomalli, Jones continued to experiment with art making. "I was interested in materials," he says. "I was making Vegemite photograms and coating things with vegemite. I was interested in that because it's a black Australian substance that you either hate or love. Then I was interested in corrugated iron. My great-grandfather was a fencer who used to travel around and apparently lived under a piece of corrugated iron. It was a material that had that association, it was him, but something that's very Australian. It had a dual meaning."
Jones often works with everyday materials, such as fluorescent lights and blue tarpaulin, which he recycles and repurposes to explore relationships between the community and individual, the personal and public, and the historical and contemporary.
He has worked on several major public art commissions, including Westpac Headquarters in Sydney and the AXA Insurance Group Offices in Melbourne. In past projects Jones has sought to represent both the traditional and contemporary by working with the particular site's historical usage and current vision. Often perceived as oppositional, these two frameworks are in fact linked, sharing commonalities and connections; Jones's artworks serve to honour both contexts.
Jones has exhibited both nationally and internationally: in Australia at Sherman Contemporary Art Foundation, Sydney, and National Gallery of Victoria, Melbourne, and abroad at Palazzo delle Papesse Contemporary Art Centre, Siena, Italy, and Plug In Institute of Contemporary Art, Winnipeg, Canada. He has won several awards for his work, including the 2002 New South Wales Indigenous Arts Fellowship from Arts NSW and the inaugural Xstrata Coal Emerging Indigenous Art Award from Queensland Art Gallery in 2006.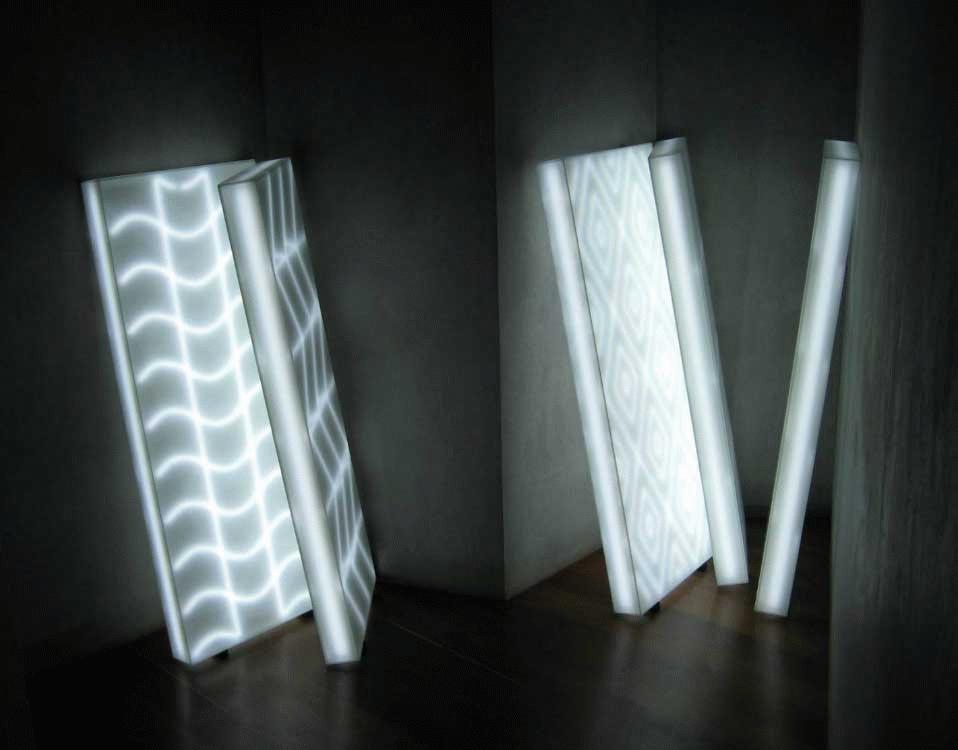 Jonathan Jones Untitled
Solo exhibitions
2011
untitled (salt), Galerie Mirchandani and Steinruecke, Mumbai, India
2010
Jonathan Jones, Tim Melville Gallery, Auckland, New Zealand
revolution, Gallery Barry Keldoulis, Sydney
2009
untitled (heads or tails), Artspace, Sydney
2008
untitled (the tyranny of distance), Sherman Contemporary Art Foundation, Sydney
2007
Jonathan Jones, Newcastle Art Gallery, Newcastle, Australia
trade mark, Gallery Barry Keldoulis, Sydney
2006
light maps, Gallery Barry Keldoulis, Sydney
2005
white lines, Gallery Barry Keldoulis, Sydney
2004
blue poles, Gallery Barry Keldoulis, Sydney
2003
lumination, Gallery Barry Keldoulis, Sydney
2002
Serve Chilled, Sherman Artbox, Sherman Galleries, Sydney
Collaborations
2007
an index of kindness, with Ruark Lewis, Post Museum, Singapore
Blanche (Phase 1), with K C Adams, Chalk Horse, Sydney
homeland illuminations, with Ruark Lewis, Performance Space, Sydney
The Trouble with the Weather: a southern response, with Jim Vivieaere, UTS Gallery,
Sydney
2004
2004: australian culture now, with Darren Dale and David Page, National Gallery of
Victoria and Australian Centre for the Moving Image, Melbourne
interference: travelling light, with Jim Vivieaere, Pacific Wave Festival, Museum of
Sydney and Performance Space, Sydney (and regional tour)
2003
40 ambivalent words, with Ruark Lewis CLUBS projects Inc, Melbourne