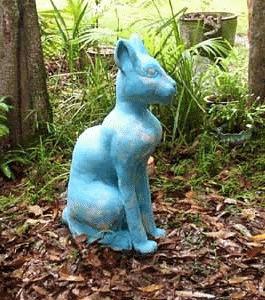 `DreamCATcher`
Linnet has a long career in the art world.
She grew up in Old Mt Druitt, knowing that she wanted to be an artist at an early age. Linnet left school in year 10 when she wasn't able to join a technical drawing class because of her gender and enrolled in an Arts Diploma course which she travelled more than 2 hours by train each day of the week to attend.
This course gave her a more indepth insight into a carrer in graphic art. At this stage it was evident that sculpture, her first love would not provide her with a secure income.
After completing the course in the early 70's, Linnet worked as a full time junior graphic artist for AIM Art Studio in Taylor's Square, Paddington,Sydney. Here she illustrated, designed and layed out publications and other promotional material.
She left AIM art studio within a year with an offer to work with Columbia Broadcasting Company as Design Artist. Designing record jackets, posters, t-shirts and other promotional material for local and international recording artist.
After 2 years Linnet took on a position with Hoyts Theatres Limited as graphic artist, working in the advertising and promotion department with a group of artist and Linnet was the only female in a group of 5 artist. 20th Century Fox and MGM were the main distributors.
Here Linnet designed and illustrated film posters, "Movie News" magazine and all other promotional advertising which among others included TV graphics, t-shirts, foyer displays for all national Hoyts theatres throughout Australia.
This job led to an offer by Technical and Further Education Department for Linnet to join their newly created Advertising Department where she worked with photographers, writters to design all the promotional and informational material for TAFE nationally.
After having her daughter in the early 80's, she and her family decided to settle on the northern rivers of the far north coast of NSW. Moving to Ballina she established her own graphic art and advertising studio which she sold after a decade. Then worked with Ballin Council and Geolink as Technical Illustrator, adapting to the computor age before finally doing a Diploma course in Ceramics to finally reach her goal as sculptor.
Presently Linnet is developing her skill as emerging ceramic sculptor while offering her artistic skills and well equiped studio to others who would like to join her.
linnets@aapt.net.au
`Australian Bird Totem`
1972 Randwick TAFE College. Graphic art
1973 AIM ART Studio Junior Illustrator design and paste up artist
1973 CBS Recording and Musical Instruments. Senior Design Artist
1974 Hoyts Theatres Limited. National Design & Promotional Artist
1979 Information Services Dept TAFE. Senior Design Artist
1983 Coastline Graphics. General Manager
1993 Ballina Council. Technical Illustrator
2002 Geolink Technical Illustrator.
2002 Ceramic Diploma Lismore TAFE
2005 Bloodwood Studio, Emerging Sculptor and ceramic artist.
2002 Group exhibition Nimbin Spring Art Festival.
2003 Group exhibition Roxy Gallery, Kyogle.
Group exhibition Lismore Regional Gallery.
Selected exhibition Thursday Plantation Sculpture Show.
2004 Feature exhibition ABC Garden Show
Group exhibition Coraki Art Show
2005 Coffs Harbour Art Show, Group exhibition
Border art Prize Gold Coast Art Gallery, Group exhibition
LUSHart Gallery Surry Hills, Group exhibition