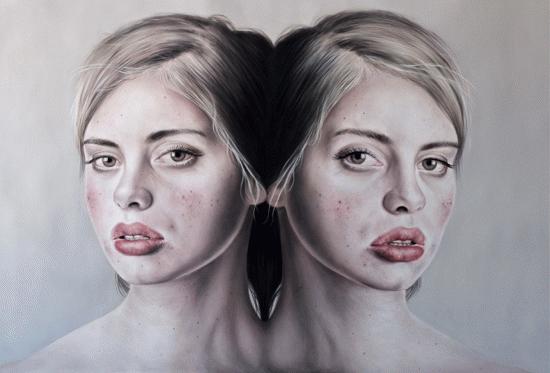 Reflection 1
*Matt Doust: A Talented Young Portrait Artist*
Matt Doust (1984 -2013) was shortlisted for the Archibald prize in 2011 and was an artist of considerable promise. Doust died from an epileptic seizure in August 2013, aged just 29, whilst he was working on the preparation for an exhibition of his work in LA on 7 September. Doust was considered to be one of the most promising young Australian artists of his time, and his work is incredibly popular with the Hollywood elite. His portrait of Perth-based model Gemma Ward was his shortlisted Archibald prize winning piece. Doust`s work was widely collected both nationally and internationally. Actors Jim Carrey and Mickey Rourke are both on record as owning and admiring his hyper realistic portraits.
*Early Life*
Doust was born in Santa Monica, California, but moved to Australia when he was a small child. He grew up in Perth, and it was here he began his painting career and found his first success as an artist. Other than these few details, there is little on public record about Doust`s early life, o= r his life before he became an artist. However there is much on record about his achievements in portraiture. Doust first exhibited his work in 2005 in a group exhibition at Perth Institute of Contemporary Arts (PICA). His first solo exhibition was just a year later in 2006 and was called *Nature of Us*: It was held at the Kurb Gallery, also in Perth.
*Career Success*
Doust exhibited at the Venn Gallery in Perth in 2011, just as his career was beginning to take off. The exhibition was considered to be a huge success, and Doust was declared a rising star. Doust painted his portraits in oils and, as a famous womaniser, was even known to occasionally mix semen in with his oil paints before he began working on a painting. The focus of Doust`s work was on capturing every detail on his subject`s fa= ces: turning the portrait into a landscape. His last Australian exhibition was also at the Venn Gallery in 2012 and was entitled *Unravel.*
Doust experimented with recreational drugs, and was also a heavy drinker. In a 2012 interview with
*Homme Magazine*
, Doust stated that he moved to LA because he was too comfortable in Australia, where he was consistently working, and didn`t feel he was challenging himself. When he was in LA is when he shared his recreational drug use had begun, stating "I was a coke fiend for a while, and just got lost in the elevated party situation of Los Angeles."
According to Kwik Med
, this kind of drug and alcohol use can quickly lead to addiction, and infrequent binge drinking sessions can be just as dangerous as daily drinking. They can still require treatment and recovery. In the same *HommeMagazine *
interview, Doust hauntingly joked that he often thought about death (both his own and in the abstract sense) and even jokingly stated that he was looking forward to it. However there has been no implication that Doust`s death was alcohol or drug related: the artist died from a severe epileptic seizure, having suffered from epilepsy for most of his life.
*An Untimely Death*
In 2011 Doust moved to Los Angeles, where he was due to show an exhibition of his work on the 7th September 2013 at the Thinkspace gallery. On the evening of 28 August 2013, Doust suffered a severe epileptic seizure and died. The Thinkspace gallery made the decision to go ahead with the exhibition of Doust`s work as a posthumous tribute to the artist. They announced this at the same time as they announced the artist's death on their Facebook page. According to the gallery, the decision to go ahead with Doust's debut American solo show was made in collaboration with Doust's family, who felt to do so would be the perfect celebration of this life and of the incredible work he left behind. Perth based screen writer and friend of the artist, Jimmy Jack, described Doust as a beautiful man and one of the most enigmatic and intelligent people I`ve ever met. Critic reports of the Thinkspace gallery exhibition so far have been extremely complimentary, and Doust`s voyeuristic and realistic portraits have been met with rave reviews.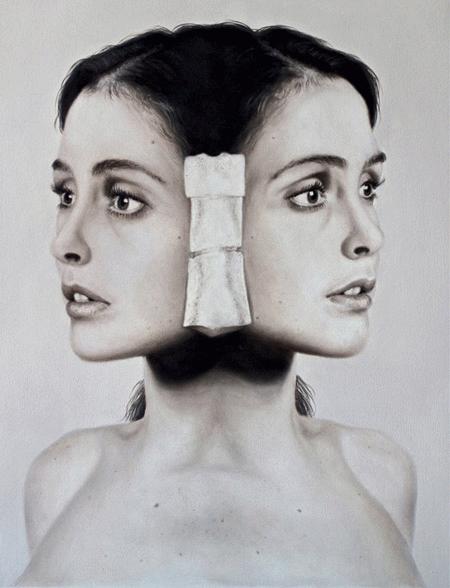 Reflection III
SOLO EXHIBITIONS
2011 Recollections and Obsessions, Venn Gallery, Perth
Reins, with performance by Will Stoker, Free Range Gallery, Perth
2007 Un Mon Swaye, Distracted Gallery, Perth
The Middle Distance, The Passage, Perth
2006 Nature of Us, Kurb Gallery, Perth
SELECTED GROUP EXHIBITIONS
2011 The Curio December Collection Exhibition, Curio Studio and Collection, Los Angeles, USA
The Archibald Prize, Art Gallery of New South Wales, Sydney
2010 Make Friend, Norfolk Basement, Fremantle
2009 Black Swan Art Prize for Portraiture, Perth Town Hall, Perth
Artists With Attitude 09, Burswood Entertainment Complex, Perth
Drawing 09, Brunswick Street Gallery, Melbourne
Portrait 09, Brunswick Street Gallery, Melbourne
Lewyn, Yallingup Galleries, Yallingup
2008 Silver- Artrage 25, Perth Institute of Contemporary Arts (PICA), Perth
2007 Mine Own Executioner, Mundaring Arts Centre, Mundaring
2006 Self Titled, The Autopsy Gallery, Melbourne
2005 Drawn Out, Perth Institute of Contemporary Arts (PICA), Perth, curated by Hannah Mathews
AWARDS/RESIDENCIES
2011 The Archibald Prize Finalist
2010 City of Swan Art Award Winner
2009 Brunswick Street Gallery Acquisition Award In Portraiture Winner
Black Swan Art Prize for Portraiture Finalist
2008 Town of Vincent Award Winner (Second Prize)
2007 Animosity, Studio Residency, Perth Institute of Contemporary Arts (PICA)
South Perth Art Award Winner (First Prize)
2006 Belmont Art Award Winner (First Prize)
SELECTED BIBLIOGRAPHY
John McDonald, Portraits on parade, The Sydney Morning Herald, 16-17 April 2011
Gillian O'Meagher, catalogue essay for Recollections and Obsessions exhibition, March 2011
Catie Low, In Real Life, The Sunday Times Magazine, January 2011
Louise Bettison, Shadow to light, Western Suburbs Weekly, May 2008
Annika Kristensen, Drawing on life, The West Magazine – Persepctives, March 2007
Anne Gartner, Artist his own worst critic, The Guardian Express – expresslife, October 2007
Ted Snell, Compelling strokes from human hands, The Australian, July 2005