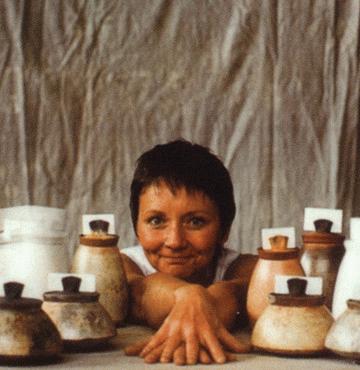 Patty Wouters
AKA: Patty Wouters
Born: 1957
Ceramics
Contemporary
Established


Lives and works in Brasschaat, Belgium
Represented in Australia by Uber Gallery

2004 Invited to be an ambassador for a Belgian delegation of ceramists celebrating 1000 years of porcelain in Jingdezhen.
2003 Selected for the World Ceramic Biennale of Icheon, South Korea.
2003 Selected for the International Ceramic Competition in Zaragoza, Spain.
2003 Selected as Artist-in-residence at WSW, New York USA.
2002 Invited to the International Ceramic Symposium, Trieste Italy.
2001 Invited for demonstrations and lectures at the Eastern Tennessee State University, Tennesee USA.
2001 Lectured at the International Slide Presentation component of the NCECA-conference, North Carolina USA.
Italy, Scotland and England.
2000 Participated at the International Ceramic Symposium, Bechyne Czeck Republic.
2000 Invited to lecture and participate at Hatfield Ceramic Festival, UK.
2000 Invited to conduct workshops in the Clay Art Centre, New York USA.
1999 Invited to the International Ceramic Symposium at Burgstein Austria.
1998 Commissioned work for The International Publisher, Kluwer Belgium.
1998 Member of the International Craft Design Association, Europe.
1998 Member of the National Council on Education for the Ceramic Arts, USA.
1998 Lectured at the International Slide Presentation component of the NCECA-conference, Texas USA.
1998 Invited as a panelist for The Ceramic-workshop, Ohio USA.
1998 Conducted workshop for the international students at the University of Brussels, Brussels Belgium.
1997 Invited by the European Community (Caleidoscoop-project) for The International Ceramic Congress, Caltagirone Sicily.
1996 Lectured and held demonstrations at the International Ballardini Institute for Ceramic Art, Faënza Italy.
1995 Invited artist for the JINRO International Ceramic Art Workshop, Seoul Korea and the YWCAT workshop, Tokoname Japan.
1994-2001 Held workshops about primitive firing techniques and paperclay in France, Belguim, Netherlands and USA.
1992 Worked as an assistant to Suzy Atkins, France
1989-2001 Participated in International Ceramic Fairs and Biennals in Belgium, Netherlands, France, Italy, Scotland and England.
1987-1994 Attended international workshops with David Miller, David Roberts, Takeshi Yasuda, Antonia Salmon, Suku Park and others.
1987 Started 'Atelier Cirkel' where she taught artistic workshops, summer workshops and master classes.
1986 Started her own studio.
1984-1986 College of Social Studies, Netherlands – works in social and cultural organizations.
1981-1984 Art teacher in various schools, Antwerp Belgium
1976-1981 Graphic arts and Cermaics, artschools in Antwerp and Hasselt, Belgium
1975-1976 Exchange student, Pennsylvania USA

AWARDS

2003 Honourable mention at the 2nd World Ceramic Biennale, Icheon South Korea
2001 1st Public Prize at the International Ceramic Fair, Gouda Netherlands
1998 SILVERHAWK award, New Mexico
1997 BANCAIXA prize at the European Ceramic Biennal, Manises Spain
1996 1st Prize at the Ceramic Biennal, Mechelen Belgium
1996 1st Prize of Aesthetic Wheel Throwing at the Mondial Tornianti, Faënza Italy
1996 Public Prize at the International Ceramic Biennal, Andenne Belgium
1994 Honourable mention at the 2nd Annual Exhibition of Miniature Art, Art Addiction, Stockholm
1994 Public Prize at the International Ceramic Biennal, Andenne Belgium
1987 Selected for the prize for Sculptural Art, Lion's Club, Antwerp Belgium



SELECTED SOLO EXHIBITIONS

2003 Gallery Theemaas Rotterdam, Netherlands
2003 Cultural Centre Borgloon, Belgium
Gasthuiskapel
2002 Gallery MAS Kalmthout, Belgium
2002 VDK-Gallery Gent, Belgium
2002 Galleye Artterre Eefde, Netherlands
2001 Gallery Art Meditate Houtem, Netherlands
2000 Cultural Centre Herk-de-Stad, Belgium
2000 Gallery Toon Thijs Nijmeghen, Netherlands
2000 Gallery Mark Van Meensel Zelem, Belgium
1999 Gallery MAS Kalmthout, Belgium
1999 Gallery Ingrith Desmet Roeselare, Belgium
1999 Gallery St. Joseph Leeuwarden, Netherlands
1998 Gallery Van Dam Diphoorn, Netherlands
1998 University of Brussels Brussels, Belgium
1998 Gallery ARTTERRE Eefde, Netherlands
1996 Gallery MAS Kalmthout, Belgium
1995 Gallery t'Lievevrouwke Bergen-op-Zoom, Netherlands
1993 Gallery Tattelijee Essen, Belgium
1987 Private House 'Simon' Brasschaat, Belgium
1980 Gallery Alderij Hasselt, Belgium

SELECTED GROUP SHOWS

Participated in over 100 group exhibitions since 1978.
Recent shows include…

2004 Gallary Iham Antwerp, Belgium
2004 Cultural Centre Jingedezhen, China
2004 Gallery Sanbao Sanbao-village, China
2004 Gallery John Galt Kortrijk, Belgium
2004 Museum Tiendschuur Tegelen, Netherlands
2003 Groep SIGNAAL Kruibeke, Belgium
2003 Gallery De Markgraaf Kalmthout, Belgium
2003 2nd World Ceramic Icheon, South Korea
Bienalle
2003 Gallery De Markgraaf Kalmthout, Belgium
2003 Gallery PI-kwadraat Erpe, Belgium
2003 Gallery Marc Van Meensel Zelem, Belgium
2003 Centro de Artesania Zaragoza, Spain
de Aragon
2003 Gallery Rooyaert Netherlands
2003 Museum Van Lien Fijnaard, Netherlands
2003 Museum de Kopermolen Vaals, Netherlands
2002 LINEART Gent, Belgium
2002 Cooperative Prospettiva Trieste, Italy
2002 Stadsgalerie Gouda, Netherlands
2002 Artisan Edinburgh, Scotland
2001 Galerie De Bark Voorburg, Netherlands
2001 Gallery Marc Van Meensel Zelem, Belgium
2001 Gallery Thomas Liedekerke, Belgium
2000 Altech Ceramics Bienalle Gauteng, South Africa
2000 Handicraftmuseum Lapeenranta, Finland
2000 The Old Courthouse Cumbria, UK
Gallery
2000 Museum B. Palyssy Lot-et-Garonna, France
2000 Gallery Keramaikos Arnhem, Netherlands
2000 Gallery SOUS-TERRE Lothoijen, Netherlands
1999 Gallery ARTTERRE Eefde, Netherlands
1999 Museum of Manises Valencia, Spain
1999 Museum de Kopermolen Vaals, Netherlands
1999 Gallery Axpoele Ruislede, Belgium
1999 Gallery Desudé Udenhout, Netherlands
1999 IHAM-gallery Antwerp, Belgium
1999 Terra Brughensis Brugge, Belgium
1999 VIZO-gallery Brussels, Belgium
1999 Jacob Jordaenshuis Antwerp, Belgium
1999 De Welriekende Dreef Ingooigem, Belgium
1999 Het Vleeshuis Lier, Belgium
1998 Blackheath Gallery London, UK
1998 Museum of Ceramics Alcora, Spain
1998 Gallery De Mijlpaal Heusden-Zolder, Belgium
1998 Gallery Ingrith Desmet Heule-Kortrijk, Belgium
1998 Museum of Modena: Italy
Homage to E. Ferrari
1998 Wayne Center for Wooster, Ohio, USA
the Arts
1998 International Fair: Florence, Italy
Craft for the Global Village
1998 Artfair Maison et Objet Paris, France
1997 Art Fair Autotrom Rosmalen, Netherlands
1997 Gallery Frank Lavens Roeselare, Belgium
1997 Museum of Manises Valencia, Spain
1997 Gallery Ronny Seeuws St-Lievens-Houtem, Belgium
1997 Museum Van Humbeek-Piron Leuven, Belgium
1997 Cityhall Lille, France
1997 Cultural Centre Aubagne, France
1997 International Ceramic Brussels, Belgium
Bienall
1997 Fletchers Challenge Auckland, New Zealand
Ceramic Award Exhibition
1997 Centre Culturel Bandol, France
1997 Gallery Wohmen und Kunst Hamburg, Germany
1997 Holland Art Fair The Hague, Netherlands
1997 Arboretum Kalmthout, Belgium
1996 International Art Fair Mechelen, Belgium
1996 Gallery Artterre Voorthuizen, Netherlands
1996 Flemish Cultural Centre Rijkhoven, Netherlands
1996 Salle d'Anchin Douai, France
1996 Cityhall Gmunden Austria
1996 Gallery MAS Kalmthout, Belgium
1996 Gallery Carla Koch Amsterdam, Netherlands
1995 Gallery Gare d'Art Lunteren, Netherlands
1995 Gallery Cera Tokoname, Japan
1995 International Ceramic Bandol, France
Fair
1995 Gallery Chosunilbo Seoul, South Korea
1994 Gallery Kunstforum Schelderode, Belgium
1994 World Crafts Council Rijkhoven, Belgium
1994 Museum Andries de Potter Rotterdam, Netherlands
1994 International Ceramic Andenne, Belgium
Biennial
1994 Gallery Del Bello Toronto, Canada
1994 Gallery Danderyd Stockholm, Sweden
1994 Cultural Centre Mechelen, Belgium
1994 Gallery Salle du Haut Bergues, France
de Staplande

SELECTED PUBLICATIONS

2003 Catalogue 'World Ceramic South Korea
Biennale 2003'
2003 Catalogue 'Cerco 03' Aragon, Spain
2002 'Swinging' (recent works)
2001 Ceramics Technical (May ed.) Australia
2001 Ceramics Monthly (Feb. ed.) USA
2000 Catalogue 'Le feu, le bois et France
les Sigllées'
2000 Guide to The Ceramic Museum Modena, Italy
1999 Catalogue 'Ceramic Biennal' Manises, Spain
1999 Het Belang van Limburg (Sep) Belgium
1999 Catalogue '10 Years Galerie Netherlands
KERAMAIKOS'
1999 Ceramics Monthly (Sep. ed.) USA
1999 Catalogue 'Terra Brughenis' Belgium
1999 Korean Ceramics Monthly (Spring) South Korea
1999 'Kwintessens' portfolio#1 Belgium
1998 'Paper Clay' Rosette Gault USA
1998 'Working with Clay' Susan Peterson USA
1998 'Ceramic Form' Peter Lane UK
1998 Pottery Making Illustrated (Spring)USA
1998 Catalogue 'Functional Ceramics' Ohio, USA
Wayne Centre for the Arts
1997 Catalogue "European Biennal of Mansises, Spain
Ceramics
1997 KNACK Magazine (Aug. ed.) Belgium
1997 American Crafts (June/July) USA
1997 Ceramics Monthly (May) USA
1997 Arboretum Magazine Belgium
1997 Kunstwerk (April) Netherlands
1989-1996 Published in magazines and books throughout Europe, Asia and Australia.

COLLECTIONS

City of Antwerp, Belgium
JICA Collection, Seoul South Korea
IWCAT Collection, Tokoname, Japan
Ceramic Museum of Manises, Spain
Museum of Modena, Italy
Museum of Oldenburgh, Germany
Museum Tiendschuur, Tegelan Netherlands
Musée Bernard Palissy, France
Featured in private collections throughout Asia,
Europe, USA and Australia.