`Follow Me` Fairy Art by Selin
AKA: Selina Fenech
Born: 1981 Kurri Kurri, NSW
Digital
Drawings
Figurative
Mixed Media
Painter
Realist
Traditional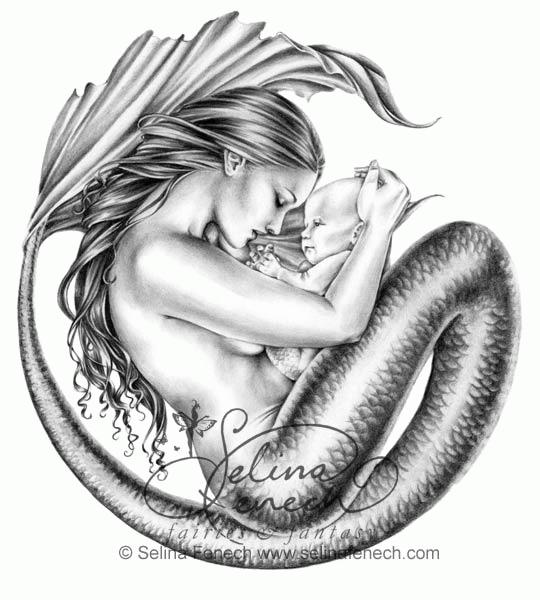 `Motherhood` Mermaid Art by Se
As a child Selina loved to read. Her favourite stories were those of myth and magic, princesses and fairies. She soon learned she had a greater love than reading when she would spend countless hours staring at the illustrations in these books, ignoring the stories told in words in preference of the stories shown by the artworks. She would study each brush stroke, marvelling that any human hand could create such beauty. The images enchanted her, bewitched her, and filled her head with magic and romance.
Having always enjoyed drawing, Selina began to create artworks of her own ideas of fantasy inspired by the illustrations in her fairytale books, with goddesses, fairies and enchanted creatures. She grew up continually trying to improve her art and create that same magical feel and sense of adventure she knew as a child.
Many years later, Selina's artwork has been warmly received by lovers of fantasy all over the world. Selina still resides in Australia, being self employed in painting her ideas of fantasy and selling her own artwork and handcrafted gift designs through her website

`Warm My Heart` Gothic fantasy
Selina Fenech Fairies and Fantasy has been a registered business since 2002 and Selina's artwork has been published in the UK Pentacle Magazine, US Faery Magazine, UK Fae Magazine, Australian Spellcraft Magazine, Australian Witchcraft magazine, "500 Fairy Motifs" by Myrea Petit,"Visions of Atlantis" by Ellen Million Graphics, and "Curvy 4" by Yen Magazine, as well as interviews in various newpapers and on radio shows. Her artwork is also used as designs for licensed manufacturers worldwide including Koala Card Publishing, Pacific Trading Collectables, The Australian Bookmark Company, Munro Gifts Figurines, Lazy Time Toys, Peter Stone Jewelry, Yujean/Net Sales, Trinity Products Apparel, Heaven and Earth Designs, Bunch of Fun Stamps, The Craft Station, Enchanted Tattoos, My Scarlet Rose Accessories, Creative Image Licensing Management and Marianne Design. Selina's art has collectors in over 40 countries worldwide.