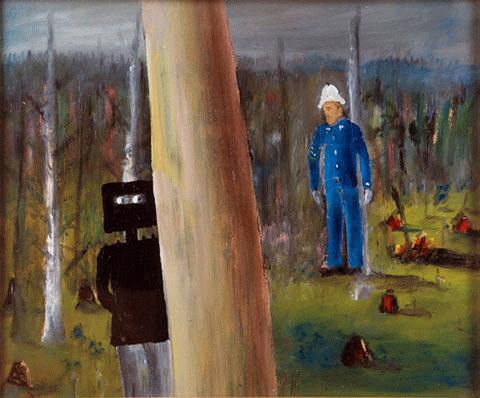 Kelly and Sergeant Kennedy
Australian painter, draughtsman, printmaker and stage designer. Australia's most honoured and internationally acclaimed modern painter, and one of the most travelled artists of his generation, he worked prolifically in a variety of media on themes that often related closely to the story of his own life. He remained a controversial figure, considered by Kenneth Clark to be one of the major artists of the 20th century, but often criticized for trying to do too much. Alternating bright moods with blackest drama, he tended to work in series, reviving formal elements and iconography from previous works and maintaining a spontaneous style by devising new painting techniques in the process of execution.
Nolan was enrolled twice at the National Gallery of Victoria's School of Art (1934 and 1936) while employed as a commercial artist, but he preferred to educate himself in the public library. Reproductions of works by Picasso, Paul Klee, Henri Matisse and the Surrealists influenced his idiosyncratic, quasi-abstract works of the late 1930s, for example Untitled (abstract) (1939; Melbourne, N.G. Victoria). He wrote poetry and read omnivorously. Rimbaud was perhaps his greatest inspiration, together with Blake, Joyce, D. H. Lawrence and Herbert Read. From 1938 he was encouraged and supported by Sunday and John Reed, patrons and publicists whose house, 'Heide', in the (outer) Melbourne suburb of Heidelberg, became a focus for a close-knit avant-garde group including Albert Tucker, Joy Hester, John Perceval, Arthur Boyd and Mary Boyd (whom Nolan married as his third wife in 1978). He was a founder-member of the Contemporary Art Society in that year and subsequently helped produce the radical Reed and Harris journal Angry Penguins.
Nolan's early paintings influenced by Dada, such as the red, yellow and white abstract Head of Rimbaud (1938-9; Melbourne, Heide Park A.G.), were intended to be shocking in their simplicity. Boy and the Moon (1940; Canberra, N.G.) consists of a bright disc set in a dark blue background. In 1940 Nolan held his first one-man exhibition in Melbourne and designed sets and costumes for the Ballets Russes production of Icare (Sydney, 1940), commissioned by Serge Lifar. Nolan was conscripted into the army in 1942, and he spent almost two years based at Dimboola in the flat golden wheatlands of north-western Victoria. By then he was working almost exclusively with ripolin, a fluid fast-drying, high-grade commercial enamel. He began to paint his immediate surroundings, thereby rescuing the Australian landscape tradition from the conservative limbo into which it had fallen since the heyday of the Heidelberg school. Bold, bright, almost childlike in their apparent simplicity, these lyrical landscapes and faux naïf figure subjects scarcely hint at the disturbances of a world at war (e.g. Under the Pier, 1945; Canberra, Nolan Gal.). Many of his post-war paintings continue to evoke his happy childhood in the Melbourne suburb of St Kilda.
In 1945 Nolan began his first paintings on the theme of Ned Kelly, the crudely idealistic, vengeful Irish-Australian outlaw hanged for theft and murder in 1880 (see Australia, fig. 12). Wishing 'to put something in front of the bush', he took as his subject the dramatic black, square image of the bushranger's homemade armour silhouetted against scribbled vegetation or a burnished sky. Although he had heard first-hand tales of the Kelly gang's exploits from his police-officer grandfather, the semi-narrative paintings (exhibited in Melbourne in 1948, and subsequently in Paris and Rome; 26 of the series in Canberra, N.G.) were, he revealed, at least as much about himself as the 19th-century folk hero.
Nolan left Melbourne in July 1947, trekking to far-north Queensland and Fraser Island, where he produced another series of 'historical' paintings, this time on the theme of the shipwrecked Mrs Eliza Fraser and her convict rescuer; for example Mrs Fraser (1947; priv. col., see MacInnes, Clark and Robertson, pl. 19). He married Cynthia Hansen (John Reed's sister) and settled in Sydney. Official recognition came in 1949 with the Art Gallery of New South Wales's purchase of his whimsical Pretty Polly Mine (see fig.) and outback landscape Carron Plains, both dated 1948. Kenneth Clark, visiting as Slade Professor from Oxford, called him Australia's 'only real painter', urged him to leave the Antipodes and purchased Little Dog Mine (1948; London, Robert Holmes à Court priv. col.). Nolan won the Dunlop Prize in 1950 for one of a series of central Australian 'dead heart' aerial desertscapes; several of these were included in his first London exhibition (Redfern Gal., 1951), from which the Tate Gallery acquired Inland Australia.
From 1953, Nolan began travelling extensively from his new base in London. He lived in Greece in 1955-6 and in the USA in 1958-9 and 1966. Successive exhibitions with major commercial galleries enhanced his reputation in London and New York. He produced a second Kelly series from 1954 to 1957 in enamel and oil, followed by works such as Mrs Fraser (series, 1957-8; London, priv. col.) and Leda and the Swan (series, 1958-60; Sydney, A.G. NSW) in a dramatic new technique using PVA paint swept and scraped across white-primed hardboard. Among his new subjects in the 1960s were the doomed explorers Burke and Wills, African animals, Antarctic explorers and the Gallipoli Anzac campaign. He continued working for the stage, for example designing the sets and costumes for the Royal Ballet production of Stravinsky's Rite of Spring, choreographed by Kenneth MacMillan in 1961. From the 1970s Nolan visited Australia almost every year.
He returned repeatedly to the Kelly theme, each time in a different technique and mood. In bursts of concentrated activity he produced a series of Chinese landscapes, mine workers of north-west Australia, Rimbaud's Africa and drawings for the poems of Dante, Shakespeare, Robert Lowell and the fictitious 'Ern Malley'. He also produced designs for Samson et Dalila (1981) and The Abduction from the Seraglio (1987) at Covent Garden, London, and for Il trovatore for the Australian Opera (1983). His later work, increasingly large in scale, included a vast mural, Paradise Garden (1968-70; Melbourne, N.G. Victoria), which consists of 1320 floral images in multi-coloured crayon and fabric dyes.
Nolan's imagery has been widely disseminated in print media, for example the Leda Suite of eight lithographs (1961), Dust etchings (1971) and numerous photomechanical screenprints. In 1987 he was made ARA.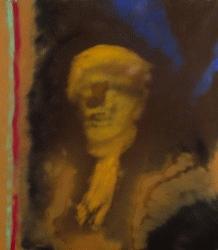 Self Portrait
Selected Bibliography:
Catalogue of an Exhibition of Paintings from 1947 to 1957 (exh. cat. by K. Clark and C. MacInnes, London, Whitechapel A.G., 1957) C. MacInnes, K. Clark and B. Robertson
Sidney Nolan (London, 1961) N. Barber
Conversations with Painters (London, 1964), pp. 83-100 R. Melville
Ned Kelly: 27 Paintings by Sidney Nolan (London, 1964) E. Lynn
Sidney Nolan: Myth and Imagery (London, 1967)
Sidney Nolan Retrospective Exhibition: Paintings from 1937 to 1967 (exh. cat., ed. H. Missingham; Sydney, A.G. NSW, 1967)
Sidney Nolan Retrospective Exhibition (exh. cat., ed. K. Clark; Dublin, Royal Dublin Soc., 1973) M. Gilchrist:
Nolan at Lanyon (Canberra, 1976, rev. 3/1985) E. Lynn:
Sidney Nolan: Australia (Sydney, 1979) R. Haese:
Rebels and Precursors: The Revolutionary Years of Australian Art (Melbourne, 1981), pp. 1-2, 86, 129-30, 199-200, 265-6, 288-90 G. Fry:
Nolan's Gallipoli (Adelaide, 1983)
Sidney Nolan: The City and the Plain (exh. cat. by R. Haese, J. Minchin and P. McCaughey, Melbourne, N.G. Victoria, 1983) E. Lynn and B. Semler:
Sidney Nolan's Ned Kelly (Canberra, 1985) B. Adams
Sidney Nolan: Such Is Life, a Biography (Melbourne, 1987) J. Clark
Sidney Nolan: Landscapes and Legends: A Retrospective Exhibition, 1937-1987 (exh. cat., Melbourne, N.G. Victoria, 1987, rev. 1987) [comprehensive bibliog. and exhibition listing]