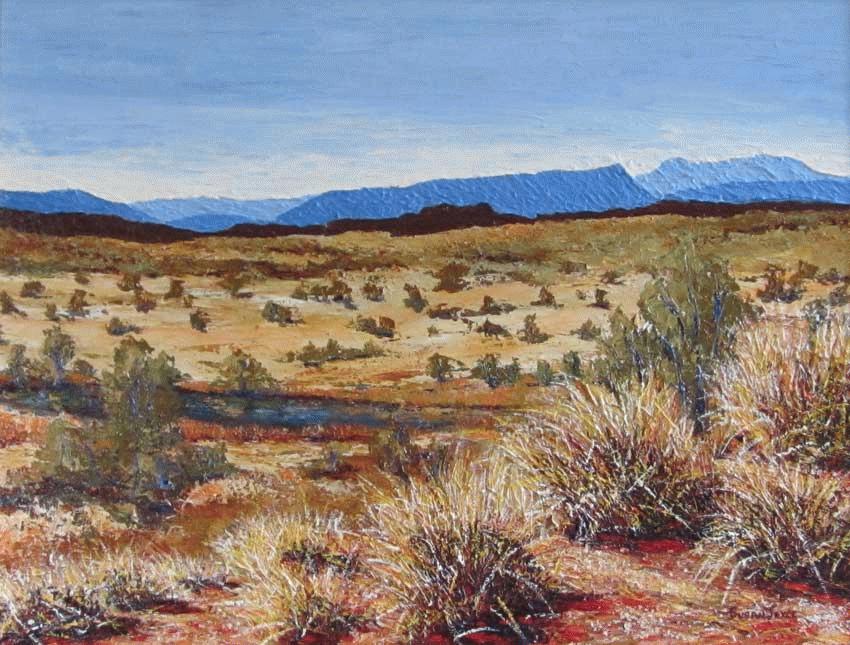 Beyond the Finke
I have been painting since 1997 when I found a set of my children's paints lying around and decided to have a go!
Since then I have gained confidence and begun experimenting with different mediums, colour, texture and surfaces. It is fun and stimulating. I love developing a subject from my idea of traditional to abstractionism. It is amazing how many paintings can result! I want to go further and to try some of the printing techniques, perhaps along the lines of the Japanese woodcuts.
In 2004, I had my first solo exhibition. What a thrill! Among the pictures there were several "small" pictures, artist Philippa Stewart-Hall saw these and suggested I submit some of them to the Australian Society of Miniature Art. I duly did so and was accepted as an exhibiting member to the Society. The quality of the works of these artists has been a great encouragement to me and as I felt that I needed to learn more I started attending miniature classes. I still go and feel that by doing so I am continually pushed out of my comfort zone which in itself is good as a creative stimulus.
I am a regular exhibitor in the Royal Agricultural Society's Sydney Royal Easter Show, ASMA Annual Art Awards and Kings School Annual Art exhibition to mention a few. I received Highly Commended in the NSW Breast Cancer Institute Life After Five Exhibition in 2008 and in 2009 received Highly Commended in the Westmead Breast Cancer Institute's Mural of Survivorship. I have also won several other awards both here and in the UK, for watercolour and acrylic.
In 2010, I won my first major art prize, I received first prize in the miniature painting section of the Arts at The Royal Agricultural Society's 2010 Easter Show, Sydney, for my watercolour painting "Kinsale", it measures two by three inches. Since then I have won many awards the latest being first prize for miniatures at the Port Macquarie 38th Annual Easter Art Competition and the St Ives Show 2013 as well as third in the acrylic seascape section at that show.
I am an exhibiting member of the Australian Society of Miniature Art, Ku-ring-gai Art Society and Hornsby Art Society.
Quiet Waters
2013
Two works included in the Australian Society of Miniature Art (NSW) publication "Yesterday Today" published in August 2013.
2013 Sydney Royal Arts and Crafts Show
Castle Hill and Districts Agricultural Society Inc
HAS Volunteers Exhibition 2013
St Ives Show - First Prize Miniatures and Third Prize Seascape
Port Macquarie 38th Annual Easter Art Competition - First Prize Miniatures
Australian Society of Miniature Art Tasmania Inc - Committee's Medal and Silver Medal
The Mint, Yesterday Today
HAS Community Milestones 2013
2012
Combined Art Societies of Sydney: The "Art of Sydney" Awards 2012
2012 Sydney Royal Arts and Crafts Show
St Ives Show - Second Prize Miniatures and Third Prize Landscape
HAS Members Exhibition 2012
KAS Annual Art Awards 2012
ASMA Annual Art Awards
The Kings School Art Exhibition
Lane Cove Art Awards
2011
ASMA Awards Exhibition – Yvonne Perrin Memorial Award for best traditional Work
Coffs harbour Lillipilli Art and Craft Exhibition - Winner Miniature Painting
Sydney, RAS Easter Show
Port Macquarie 36th Annual Easter Art Show
Herald Sun Camberwell Rotary Art Show
St Ives Show Art - First prize Miniatures
The King's School Art Exhibition
2010
Solo exhibition "From Here to There"
Lane Cove Art Awards - Commended
Ku-Ring-Gai Art Society Annual Awards - First prize and Joan Irwin prize for Miniatures
Sydney, RAS Easter Show - First prize Miniatures
ASMA Awards Exhibition
Hunters Hill Art Prize