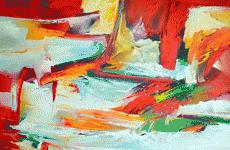 Rhapsody in Red 3
BIOGRAPHY: SUTHIRAK
Khun Suthirak is an experienced artist who has experimented with many art styles over his long years of painting but which has finally evolved into the extremely popular, unique and highly distinctive style of painting that we see today. It is characterized by heavily applied layers of paint, reminiscent of the "painterly style", using brush and trowel and splashing. He favors bold, bright primary colors for the most part which reflect his irrepressible, larger than life, personality although, when so inspired, occasionally employs sensuous, erotic, pastel shades and sometimes mixed media as well, all of which adds an interesting extra dimension to his work. Khun Suthirak's art is almost always executed on a large canvas, which is necessary. A small canvas could not contain his vibrant energy. His work is powerful, dramatic, exciting, and emotional and often seems to explode from the canvas. It is unmistakably his own. 
Khun Suthirak studied art at the Phuket campus, Prince of Songkla University commencing in 1985. Following a brief period when he worked in the galleries of other people, his driving ambition led him to branch out on his own as an independent artist, thus giving him the freedom to experiment with developing his own artistic style. He was born in 1967 and educated in Phuket and after his university training began his career in Phuket working for established galleries. He was not fulfilled working for other people, with their different ideas on art, and he felt stifled. So when he married he, and his wife, relocated to Samui in 1990 where they established a successful gallery together and Khun Suthirak was free to evolve his own distinctive style of painting. 
When he was in a financial position to obtain his own gallery in Phuket and separating from his wife, he returned to
Phuket Island in 1993. Khun Suthirak owned and managed several galleries of his own while, at the same time, perfecting his own highly distinctive artistic style. His reputation developed to the point whereby he was prevailed upon, over the years, to teach many of the artists working today in Phuket and elsewhere. He is now a much loved, mature artist and in demand by big hotels, top restaurants, and private house-holders all over Phuket and internationally. He has exhibited rarely being barely able to maintain the constant demand from private commissions. 
Exhibitions:
2006 to present: Specially create art works for the BYD Lofts, Atika Villas, and BYD Estate.
2006: Art Sydney Exhibition 2006, HRI & Hordern Pavilion, Sydney, Australia.
2006: Art Melbourne Exhibition 2006, Royal Exhibition Building, Melbourne, Australia.
2005: Special Invitation Exhibition of his immensely popular "Gone Fishing" series at Watermark Bar & Restaurant, Boat lagoon, Phuket Island, Thailand.
2002: Ongoing exhibition of selected works at World of Paintings Boutique Art Gallery, Phuket Island, Thailand.
SUTHIRAK's art is mostly, but not invariably, executed on a large canvas, which is necessary to contain his vibrant energy. It is not discrete, quiet and retiring, to be hung in a quiet corner of your residence. It is powerful, dramatic, exciting, and emotional and seemingly explodes from the canvas. It is unmistakably SUTHIRAK, and demands to be the featured focus of a room. Nothing less will do. His work can be found in big hotels, top restaurants, and private residences all over Phuket and internationally. He has mounted several successful exhibitions both local and overseas, notably in the Sydney and Melbourne Art exhibitions of 2006 where his work aroused much comment.
If you are interested in art and are as yet unfamiliar with SUTHIRAK's distinctive and exciting style, you may well be interested in viewing his work. Why not pay us a visit to view his art, and see yourself what the excitement is about. You will find us at You will find us at BYD Lofts, Patong Beach…5/28 Haad Patong Road, Patong Beach, Phuket; or better, phone for an appointment on 089 6468838.