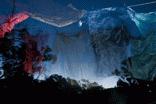 Oscar Wilde
29/Jul/2010 - 31/Oct/2010
VENUE: Falkner Gallery


Photography linking image and text.


Julie Millowick is a well-known photographer from Fryerstown. Her photographic exhibition entitled 'Quotations' is a series of social and environmental documentaries.
Over her 25 year history of working with image and text, Julie has produced many series related to a theme such as the Centenary of Castlemaine's KR Company, Fryerstown's history, the drought-stricken Wimmera and the garden of Hazel Hawke among many.
Julie continues to create environmental and psychological portraits of people, locations and situations. This time 'Quotations' incorporates images and text related to quotations, some by famous writers, others lesser known. Montaigne, Maya Angelou, Oscar Wilde, Coleridge, Kazuo Ishiguo, Georgia O'Keefe, Jack Kerouac and local poet Ross Donlon are the inspiration for her photographs. She uses a broad conceptual and technical base to create spectacular artworks, sometimes meditative and at other times provocative.