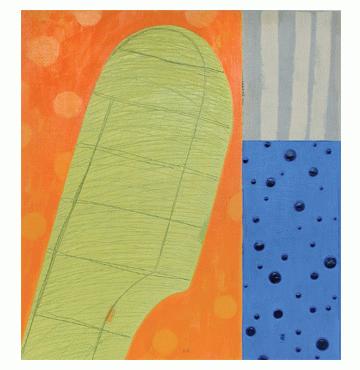 Antonius Nijssen
Acclaimed Dutch painter, Antonius Nijssen and ceramicist Yuk-Kan Yeung will be in Melbourne for the premiere of their first Australian exhibition at Über Gallery, 52 Fitzroy Street, St Kilda on 14 October 2004.
Antonius Nijssen works within the two dimensions of paint and the three dimensions of sculpture. He says of his work '…it is a journey in colours, patterns and shapes, every time again an adventure'. He shares with Brancusi, whom he considers 'one of the greatest sculptors of the 20th century, a love of simplification and strives within his own work to omit all that is superfluous without altering the harmony and balance.
Yuk-Kan Yeung was born in Hong Kong, studied in England and now lives in Holland. Non committal on whether her work is Chinese, English, Dutch, oriental or western, Yuk-Kan says …'they are a big melting pot, in there I put in Chinese wisdom, Chinese calligraphy along with Chinese and western literature, poetry and the living experiences in Holland'.