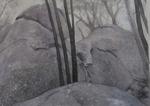 Dog Rocks, Mt Alexander, Water
Another artist who describes the Central Victorian environment is Annette Ratcliffe who resides at nearby Basalt. After her art training in Melbourne, some years living in Europe and a period of teaching, she now works in a diverse range of artforms.
She describes the main thread throughout her artwork being drawing, giving her the ability "to learn to see". Her miniature landscapes are exquisite renderings of what she sees in her own environment; they are meticulous studies of twigs, leaves, trees, boulders and bush tracks. Her works are photo-realist watercolour representations of the landscape she loves.
The exhibitions by the three artists Dean Bowen, Carolyn Graham and Annette Ratcliffe cover a wide range of artforms and techniques – oil and watercolour paintings, bronze sculptures, lithographs, etchings, linocuts and woodcuts. Themes of the landscape of Central Victoria and beyond, as well as animals, birds, portraits and cityscapes are treated very differently stylistically by these three highly regarded artists.