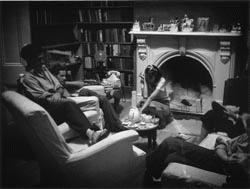 Abert Tucker, In the Library,
15/Nov/2003 - 31/Dec/2004
VENUE: Heide Museum Of Modern Art


Uncover the social and artistic history of Heide through the award-winning heritage house Heide I, it's gardens and highlights from Heide's permanent art collection.






Many of the art works in this exhibition derive from Heide's founders, John and Sunday Reed's original bequest. Supplemented by a selection of Albert Tucker's photographs and archival material, these images and objects reveal stories of the Reeds, their milieu and their diverse pursuits and lives at Heide.