Work by Ian Harrison
3/Jul/2009 - 23/Jul/2009
VENUE: The Highway Gallery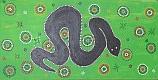 Work by Donna Smith
The COMING TOGETHER AS ONE art exhibition held at Mt Waverley's Highway Gallery is to honour NAIDOC, Australia's annual celebrations of indigenous culture.


Building on the popularity of previous exhibitions, this event will feature paintings and bowls by Paula Reeve, Heather Kennedy, Ian Harrison, Donna Smith and Patrice Mahoney. These artists represent a range of communities from Victoria and interstate, and they are a group strong in their mutual support. Many have achieved international showings and 'Artist in Residence' postings.

Flora, fauna and environmental themes feature strongly and will appeal to a diverse audience. The expressive works reflect a more cosmopolitan take on the traditional techniques and story lines used by aboriginal artists. Many of the artists will be available to demonstrate and discuss their techniques during a MEET THE ARTIST program on Tuesday 7th July, 6.30pm - 8.00pm at the Highway Gallery.

COMING TOGETHER AS ONE will be launched by an official ceremony featuring indigenous musicians and dancers on Friday 3rd July at 6.30pm.