Man Waving, Bronze sculpture
Selected paintings, prints and sculptures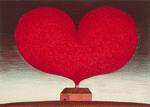 The House of Love, Lithograph
Dean Bowen's paintings, sculptures and prints all display his quirky sense of humour. He has been described by biographers as eccentric, passionate and fun-loving; a typical Australian.
Born in Maryborough, he experienced country life and then long stretches of the Calder Highway, travelling with his family from rural to suburban and urban places. He frequently references all facets of these country, suburban and city experiences.
He is renowned for his child-like images – a fat, colourful bird eats a heart-shaped leaf, a pulsating red heart escapes from a chimney, a black parrot watches a millipede – all bring to mind the quirky French cartoon "Miniscule". They are optimistic, joyous and humorous visions of life around us.
Children draw and paint with a freshness, spontaneity and expressiveness that trained artists frequently lose. Dean Bowen, like artists Dubuffet, Chagall, Giacometti and Australian indigenous artists Rover Thomas and Ginger Riley, deliberately searches for this child-like freshness. His bronze sculpture 'Man Waving' depicts a cheeky Australian youth; perhaps Bowen himself, and his large etchings 'Country Girl' and 'Country Boy' are characters from his country childhood.
Bowen's art appeals to a wide audience. He has exhibited extensively around Australia and the world and his work is represented in numerous international collections – France, Japan, China, England and Italy as well as in Australia – Artbank, the Art Gallery of NSW, the Australian War Memorial, the National Library of Australia, The National Gallery of Australia, the National Gallery of Victoria and Parliament House in Canberra