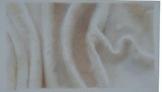 Crimp, Pencil drawing by Lee S
Lee Shelden's 'Drawn Threads' comprises a new series of exquisite coloured pencil drawings of fabrics. Each is a delicate and subtle study of the surface, warp and weft of various fabrics – satins, silks, mohair etc.
Lee describes her inspiration as ".. being generated largely by the need for quiet, solitary spaces in a world where we are bombarded by noise and busyness. The drawings are primarily about intimacy, focusing on small, simple everyday things. Drama and mystery can be found in the way the light changes the folds in a piece of fabric, or warmth remains in a tattered moth's wing." [L.Shelden 2013]
Each drawing demonstrates Lee's intense concentration and focus, and each invites the same serious examination by the viewer. The subtleties and suggestiveness of the works are aesthetically pleasing, and as well meditative, evoking a mood of quiet contemplation.