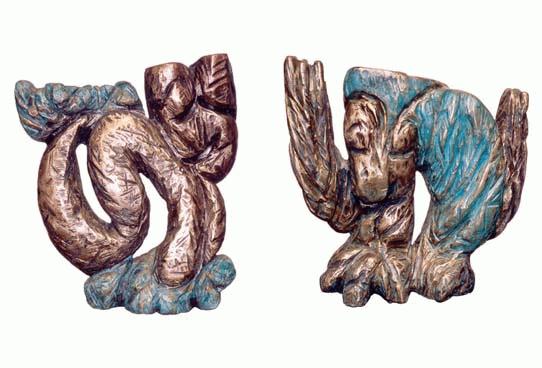 Eva Volny Bronze casts
16/Nov/2004 - 30/Nov/2004
VENUE: Vanguard Gallery


"Guardians of Flight", bronzecasts and woodcarving by Czech born sculptor EVA VOLNY. Eva has been making woodcarvings for eighteen years and recently also began exploring casting in bronze.



Since ancient times sculptured guardians were placed at the
entrance of dwellings for protection from evil spirits. This is still customary in some Asian countries. In medieval times visual signs were placed above the doorways of European houses to name them. Most signs were eventually replaced by numbers, but even today in Prague we can still find houses named "By Three Emu", "By Two Cats", "By Golden Fish" and many others.
In this exhibition Eva explores the contemporary relevance of these tradititons that she feels are worth perpetuating.

Just like the anciant guardians of old this exhibition reminds us of the importance of protecting our freedom and individuality.

Eva also asserts two formal sculptoral principles through this work:
1. That different woodcarvings made from the same tree trunk naturally relate to each other.
2. That two casts of the same sculpture displayed in a mirrored context make a perfect pair.
Therefore most of her sculptures are exhibited in pairs.