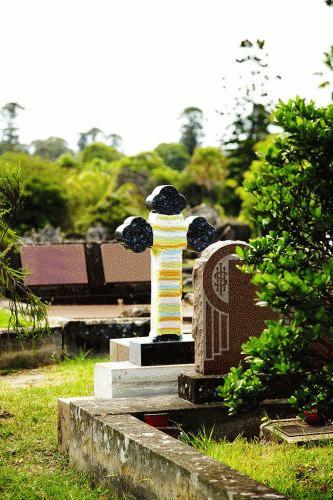 Celine Roberts
HIDDEN was developed in 2009 to establish Rookwood Cemetery as a place that actively engages in, and supports, the cultural landscape of Western Sydney. HIDDEN: A Rookwood Sculpture Walk promotes the work of a diverse range of emerging and established artists from both Western Sydney and regional areas.
HIDDEN was developed to demonstrate to the community that there is more to Rookwood than just funerals and memorials. Rookwood is a place rich in heritage, history, culture and nurturing and developing the cultural fabric of the site is of great importance to ensure its future longevity. The HIDDEN exhibitions step outside the notion of mainstream galleries, and even outside the typical 'outdoor sculpture show', and invites artists to ponder the notion of mortality and its related themes. Audiences witness creative artistic expression in a typically unconventional yet extremely meaningful context.
Every year, artists are invited to respond to the site using engaging forms of communication. The works disclose shared narratives about themes relevant to the space in a way that is as thought provoking as the site itself.
ON THE 'VILLAGE GREEN' – Corner of Hawthorne Avenue & Necropolis Drive, Rookwood Cemetery
The following artists have been selected for Hidden: A Rookwood Sculpture Walk 2012:
Lee Bethel - Crows (Murder)
Kylie Black - Eulogy
Senden Blackwood - okyo
Francois Breuillaud-Limondin & Nathalie Hartog-Gautier - A B
Jeramie Carter - Gaias Prayer Beads
Thomas C. Chung - "I Just Wanted To Say...I Still Remember You"
Will Coles - Memorial to the Unknown Armchair General
Irena Conomos - My Garden
Emily Daughton - you light up and cover my heart
Suzanne Davey - Of Light and Matter
Alethea Deane - Shelter I
Julie Donnelly - It's All About the Light
Michael Donohue - Resonant Pools
Jacquelene Drinkall - sky burial
Chloe Elizabeth - Transcendence I
Kath Fries - Tether
Adam Galea - Charon the ferryman
Stephen Hall - The Limner Loses
Lyndal Hargrave & Sue Henderson - Afterimage
Aedan Harris - Bequeath
Madeleine Hayes - Waiting
Serena Horton - Totems
Jacqueline King - In God We Trust or In Case of Emergency Break Glass
Kimie Kitamura - Life Seed
Melissa Laird - Cabinet of Curiosity
Jane Lennon - Swing Low
Nerine Martini - Applause
David McGuinness - Ancient Gods
Sarah Nolan - ALWAYS THERE
Penny Philpott - Clang Clang
Stephen Ralph - Babylon
Brian Sanstrom - Waiting...
Sally Simpson - Berry Totems
Susanna Strati - Memorialising
Jane Theau - Bea
Jane Theau - The Cortege
Jacek Wankowski - Fallen
Curator: Cassandra Hard Lawrie