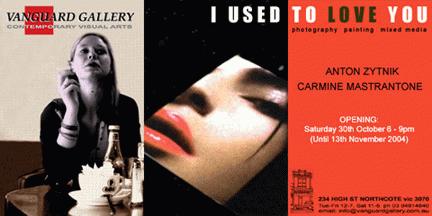 Exhibition Promo Image
30/Oct/2004 - 13/Nov/2004
VENUE: Vanguard Gallery


Recent photography, painting and mixed media by ANTON ZYTNIK & CARMINE MASTRANTONE
The exhibition explores three major themes; urban decay, the insidious exposure to 'the ideal' through advertising, and beauty beyond functionality in antiquated design.



"I USED TO LOVE YOU" photography, mixed media & painting
by ANTON ZYTNIK & CARMINE MASTRANTONE


CARMINE has previously exhibited his work in the U.K. in 2000 at the SONAR – Manchester Digital Exhibition, and the Young Digital Artist Exhibition at Ninety-Three Feet East London. From 1996 to 1999 he was the Marketing Manager / Graphic Designer for 'Quiet Rain Productions,' an organization aimed at promoting young artists in Adelaide, S.A. and exhibited his work in three of their exhibitions.

ANTON has exhibited his work in solo exhibitions at the 'Blue Gallery' and 'Correlis Gallery' in Newtown, Sydney in 2001 and 2003. In Adelaide he has held two solo photography exhibitions at Sweet Beets Gallery. He studied screenprinting in 2003 at the London Print Studio and showed three pieces in a group exhibition at the studio's gallery.