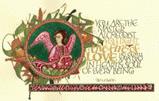 Su pearson and Deirdre Hassed
29/Mar/2007 - 8/Apr/2007
VENUE: Falkner Gallery


Calligraphy by DEIRDRE HASSED and Illuminated Manuscripts by SU PEARSON.


Deirdre Hassed's calligraphic works employ both traditional and contemporary techniques of the scribe. Materials such as vellum, papyrus, quills and modern and traditional gilding are used to create wisdom-based texts drawn from different cultures. Her life-long interest in eastern and western philosophy is conveyed allowing the viewer to appreciate the inherent unity, truth and beauty contained in her works.

Su Pearson"s illuminated manuscripts are painted in egg tempera and embellished in gold leaf. She sources her paintings from English, French, Italian, other European and Middle Eastern manuscripts dating from the 8th – 15th Centuries. Intricate detail, vibrant colours and a joyful depiction of life are evident making each painting an exquisite jewel.