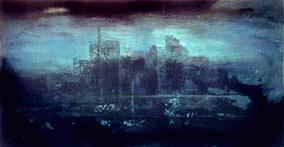 City Series 3
28/Feb/2005 - 31/Mar/2005
VENUE: MLC Gallery


Sydney's MLC Gallery is currently showing Denise Murray's meteorologically-inspired paintings, with a solo show entitled Windows and Layers. Murray's recent paintings are predominately concerned with how changing atmospheric conditions can alter how we see the landscape and those within it.

"As an artist one of my interests has been the human form and the way the body expresses emotion and attitudes," Murray says.

"From the more literal resin pieces to the brass sculpture, which deals with attitude in a more abstract way, the aim is the same. To communicate feelings directly from a visual standpoint, which I feel is a more honest form of connection with the viewer."

In Windows and Layers figurative forms and images of urban landscapes float behind abstract layers of colour and texture. "My work is very much open to interpretation by the viewer," she says, "which is how it must be."

Denise Murray has made a name for herself as a Queensland-based sculptor and painter, most recently holding solo exhibitions at Gilchrist Galleries and McWhirters Artspace in Fortitude Valley, Contemporary Arts Centre in Wollongabba, and Tevenen House Gallery in New Farm. She has also participated in several group exhibitions throughout Brisbane and the Gold Coast. In 1995 she worked with fellow sculptor Laurindo De Abreu to create an installation for the Brisbane Fringe Festival. Her work has also found its way into several major Australian collections, including the Redland Shire Council and Griffith University.

Sydney's MLC Gallery is the end result of a ten-year program developed by the multi-award winning design firm, MLC Powerhouse Design Studio. The Gallery was initially established with the aim of promoting talented, emerging artists including those from minority groups who find it difficult to have their work exhibited elsewhere. Located in the very centre of Sydney's CBD, MLC aims to introduce varied, eclectic forms of art to a diverse audience, from entry-level clients to serious investors, collectors and corporations.