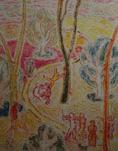 Children in the Park I
Recent monotypes by Margaret Lees is a joyful, expressive series of landscapes, female nudes and children playing.

Spring Landscape
Margaret's monoprinting technique involves drawing or painting onto a glass plate with oil paint or oil pastel and applying paper onto the plate under pressure in order to lift off a 'one-off' print. She produces spontaneous, unexpected and evocative effects in depicting landscapes, children playing and the female nude.
"In these latest monoprints, the colour has been heightened to try and convey the joy and exuberance of childhood.
Colour is the element which gives me the greatest joy, but it is also the hardest to get just right – and that makes it the most satisfying challenge." M Lees 2008