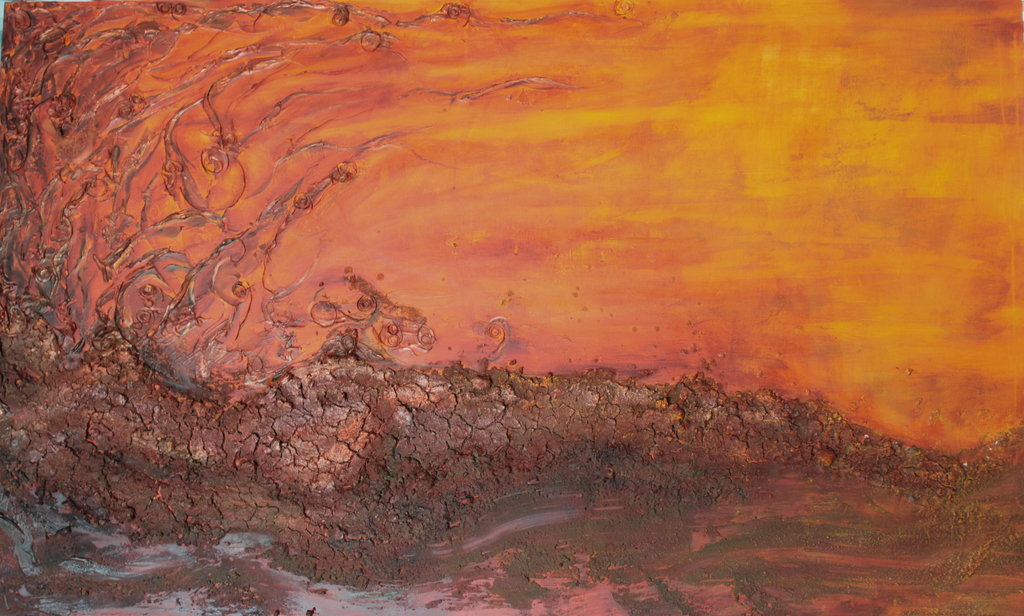 Terra by Neshka
Opening: Sunday 19 November, 2 to 4pm
Survival of the fittest
"Mother Earth" celebrates the beauty of the environment as well as the impact of consumerism. Susan draws on the seasons and the changing weather patterns as well as the interlacing of human biology with the ebb and flow of the natural world. Ness interprets Mother Earth as a female figure made from dirt or drowning in plastic bags. Both artists are aware of human exploitation of resources and the overwhelming push to consume. They have responded by developing arts practises that conserve and recycle.
Ness uses organic matter, objects and found materials, and for Mother Earth plastic. This manmade construct, so invasive all around us engulfing so many aspects of our culture. This maybe all that is left to represent mother nature. Susan uses recycled wallpaper, older pieces of discarded artworks and repurposed items to be incorporated into her artwork for this exhibition. This is a way to conserve rather than continue the cycle of consumerism.
Popular culture demands newness and there is often a brevity in the concentration level-moving from one thing to the next. Both artists challenge this by engaging the viewer. Susan's wallpaper works draws focus to its hidden patterns beneath. Ness's artworks reveals plastic bags and bread tags to encourage an awareness that is both sensate and thoughtful. This exhibition strives to give an experience that is seen and felt.
November 2017 brings the gallery into its 10th year. Susan and Ness have created Mother Earth to mark the survival not only of the gallery within a difficult industry but also the survival of the natural world within a difficult often oblivious culture.