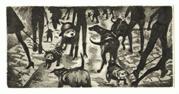 I culi e i grugni
Prendimi se puoi [Catch me if you can] is a result of Liz and her partner Brettís recent visit to Southern Italy and Sicily.
Lizís prints show the diversity and magic of both areas. Her work evokes the possibility of strange happenings, of unpredictable outcomes and of the stoicism and strength of the land and its people.
Liz uses aquatint as the principle technique to create the intense blacks and gentle greys of her prints. Aquatint allows light and dark, clarity and obscurity. It permits the printmaker to create a sense of mystery where the viewer must interpret the meaning of the shadows on the paper for themselves.