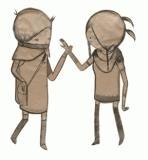 Ghost Patrol, Hexen, 2010.
Drawn entirely from the collection of the National Gallery of Australia, the first Australian institution to have collected this type of work, this exhibition surveys the past 10 years of Australian street art. Featuring over 100 works by more than 40 Australian artists, this exhibition celebrates the energy of street-based creativity recognising street stencils, posters, paste-ups, zines and stickers as comprising a recent chapter in the development of Australian prints and drawings. This exhibition is supported by the Contemporary Touring Initiative through Visions of Australia, an Australian Government program, and the Visual Arts and Craft Strategy, an initiative of the Australian Government and state and territory governments. The Cultural Partner for Space invaders: australian . street . stencils . posters . paste-ups . zines . stickers is NewActon/Nishi and Molonglo Group. The exhibition is also supported by Special Media Partner Triple J.
Artists Aeon, Azlan, Byrd, Civil, Dlux!, James Dodd, Adrian Doyle, Ghostpatrol, Haha, Misha Hollenbach, Jumbo, Ash Keating, Lister, Makatron, Marcsta, Meek, Meggs, Merda, Mini Graff, Miso, Monkey, Nails, Nurok, Okipa, Phibs, Prism, Proof, Psalm, Reks, Rone, Dan Sibley, Silent Army, Robert Sim, Sixten, Stabs, Al Stark, Sync, Twoone, Vexta, Xero, Yok, Zap and Zine makers represented by Sticky Institute.
Public program events: Bookings 9925 1717
2 September 11-12 noon: curator's talk with Jaklyn Babington, Assistant Curator, International Prints, Drawings and Illustrated Books, National Gallery of Australia
Exhibition Opening 6-8pm Thurs 1st September
26 - 30:September: The Graffiti Wall, a public art project, with artists NAILS, Twoone, Miso, Ghostpatrol and Al Stark. Location, opposite RMIT Gallery, off Little LaTrobe Street. Enquire at Gallery reception for map. (No bookings required)
26 September, 12-1 pm: Vandals or Vanguards? Street Art Seminar, moderator Jaklyn Babington, with Eloise Peace, Sticky Institute, and artists Nails, Civil and Jumbo and Zap.
6 October 11-12 noon: Free Seniors Festival morning tea and live printing event with Twoone. Seniors only please. Bookings for all events essential. 9925 1717.