Over the Fence by Karena Goldf
Sixteen renowned photographers from the region, Melbourne and interstate, explore alternative and historic photographic processes using a diverse range of subject matter.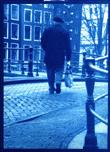 Shopping by Wendy Currie, Cya
All of the photographers are highly recognised in their innovative fields and many of them are represented in important Australian and Overseas collections.
All are passionate about their chosen processes and are eager to share that passion. Some are photography lecturers at education institutions and many conduct workshops at Gold Street Studios in Trentham East.
Artists: Wendy Currie, Silvi Glattauer, Karena Goldfinch, Veronica Hodgkinson, Bob Kersey, Alphonse Landman, Julie Millowick, Oliver Patsch, John Pollard, David Roberts, David Showler, Ray Strong, David Tatnall, Steve Tester, Ellie Young, Lynette Zeeng.
Some image-capture methods incorporate photomacrography, pinhole and ultra large format cameras. The image-making printing processes include Cyanotype, Van Dyke brown, Photogravure, Gum oil, Ziatype, Photograms, Zone plate, Photo/encaustic collage, Gum bichromate, Salt printing, Albumen printing, Polaroid transfer, Polaroid lift off, Pinhole, POP and Gelatin silver.