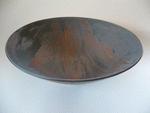 Sarah Ormonde - bowl
Both artists share a similar aesthetic in their quest for the perfect form.
Kirsty explains: "The bowl seems a simple form. But simple things are hard to do. They take a long time and require much patience and attention to detail. The simplicity of the bowl makes for a great challenge. It also, I believe, makes for a beautiful form.
My aim is to make bowls that are harmonious, subtle and true to nature." [Kirsty Sutherland 2008]
Sarah's philosophy is similar: "This work is a part of my continued quest for knowledge, always on the edge of a new discovery.
I love to fire to the point of over-fire to find the limit of that clay, then to carefully bring the temperature back down to the edge of where the clay is comfortable.
Each bowl can only be of the time and place from which it is made. A reflection of that time and place yet a threshold to the next piece. Continuing the cycle of a creative life". [Sarah Ormonde 2008]