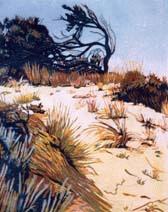 Cromb's subjects include children playing on the sand, moored boats, fishermen whiling away the hours and ti-tree and mangrove scrubland alongside golden sands and turquoise seas.
She uses the etching and reduction woodcut techniques and often prints onto hand- made paper [either made herself using seaweed and indigenous grasses in the pulp, or on paper collected in Japan from master paper-makersí studios.]
Cromb will also exhibit watercolours as well as handmade artist books and cards.