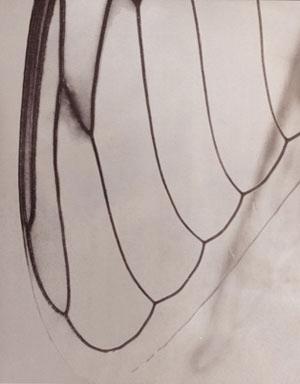 Trans
Wings and Roses explores a concealed world of alluring beauty, juxtaposed with unseemly aversion that transcends our idea of the known. These salt and albumen photographic prints are hinged between the familiar and the unknown... Wings that look like textured tapestry, stained glass windows and monsters in flight… Roses resembling the delicate folds of leafy vegetables and leather grain.
It is the abstract that falls beyond the world of immediate recognition. These mysterious forms tease the eye and subject the mind to the fragmented world we fail to recognise with the naked eye.
The use of historic salt and albumen printing processes on rag papers provide the images with a superb organic quality.
Ellie's work is held in public and private collections nationally and internationally including State Library of Victoria.