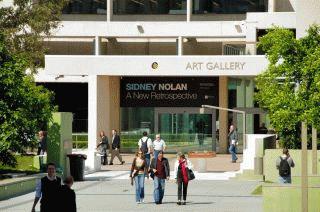 Entrance
The Queensland National Art Gallery was opened by the Queensland Governor, Sir Henry Wylie Norman, on 29 March 1895. The Gallery is committed to profiling the work of Indigenous Australian artists and strengthening relationships with Queensland's Indigenous communities. This is achieved through exhibitions, public programming and special initiatives, and the traineeship program for young Indigenous arts workers. The Gallery is regarded as a national leader in developing youth audiences. Its programs and exhibitions for young adults ― which include the annual National Youth Week Prime events, the Starter Space exhibition program, and the Melville Haysom Memorial Art Scholarship ― support and foster young artists, encourage participation in the arts by young people, and promote youth arts in a broad range of mainstream and arts media. Today, the Gallery Collection comprises more than 13 000 contemporary and historical Australian, Indigenous Australian and international paintings, sculptures, decorative art objects and works on paper.
Primrose Park Art and Craft Centre: Stanley Place, South Bank, Queensland 4101 Brisbane QLD
View Map
Director: Tony Ellwood
Phone: (07) 3840-7303
Fax: (07) 3844-8865
Email:
Click here
.
Open: Mon-Fri 10.00 to 5.00. Sat-Sun 9.00 to 5.00.
Gallery Type: Public