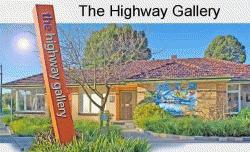 Highway Gallery
The Highway Gallery aims to present a continuous program of quality temporary exhibitions, including both emerging and established artists and community groups and organisations. Located adjacent to the Mt Waverley Shopping Centre it is close to trains and buses, shops, cafes and restaurants, and has ample car parking. Close to Mt Waverley railway station - Melway 70 E2 Free entry and easy wheelchair access Open: Tuesdays – Saturdays: 11am - 5pm, Sundays 1pm - 5pm Closed Mondays and Public Holidays NOTE: For some exhibitions and during holidays special hours may apply. Please refer to the listings for hours applying to a particular exhibition.
The Highway Gallery: 14 The Highway (cnr Gallery Place) Melbourne VIC
View Map
Director: Colin Donald
Phone: (03) 9807-7261
Email:
Click here
.
Open: Tues-Sat 11.00 to 5.00, Sun 1.00 to 5.00.
Gallery Type: Public