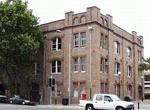 Gunnery Building
Artspace is a vital site for the construction and transaction of contemporary art which generates ideas that invent and give meaning to the present and shape the future of Australian culture. By promoting a better understanding of contemporary art we give priority to visual arts research of the highest order that develops the codes, values and methods that create new cultural systems and structures. Artspace is a centre for experimentation that emphasises critical projects of national and international cultural significance. Artspace is committed to contemporary, theoretical and conceptual processes across media, technology, cultural politics, gender and ethnicity. Artspace privileges the development of: conceptual and experimental installation and performance practices; video, interactive, multimedia, new technology practice; and the theoretical contextualisation of contemporary art and issues via our public programs and publishing activities.
artspace: The Gunnery, 43-51 Cowper Wharf Road Sydney NSW
View Map
Director: Nicholas Tsoutas
Phone: (02) 9368-1899
Fax: (02) 9368-1705
Email:
Click here
.
Open: Tues-Sat 11.00 to 5.00.
Gallery Type: Public